The oldest university in New York and the fifth oldest in the United States, Columbia University was founded as an Anglican institution in 1754.
Columbia University
Established by a charter issued by King George I, the university was first known as King's College and thirty years later – after the American Revolution – changed its name to Columbia, the personification of the United States of America.
The Campus of Columbia University
Columbia has occupied its current site in Manhattan's Morningside Heights district since 1897. The president at that time, Seth Low, hoped that the move uptown would give the university more room to expand.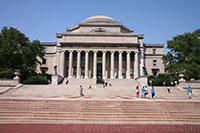 Low Library
The famous architectural firms of McKim, Mead, and White were chosen to design the new campus. Charles McKim modeled it after the Athenian agora and Columbia remains the largest collection of McKim, Mead, and White buildings in the world.
Low Memorial Library
The campus features many architectural masterpieces, not the least of which is the Low Memorial Library, which most people consider to be the centerpiece of the campus. Currently housing the visitor's center and many of the college's administration offices, the Low Library was built in the Roman Classical style.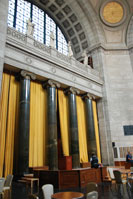 Library interior
It's a popular gathering space for students, and some have described it as an "urban beach", where students enjoy socializing and sunbathing on warm days. The former library is a National Historic Landmark, as is nearby Pupin Hall, site of much ground-breaking atomic research.
St. Paul's Chapel
St. Paul's Chapel, built in 1904, was the first building on the campus not designed by the famous architectural firm. The Northern Italian Renaissance Revival Building is faced with burned brick, limestone, and marble trim, while the tiled roof is crowned with a small cupola. It's a designated NYC landmark. Don't miss the George Nakashima-designed Peace Altar inside the chapel.
More Buildings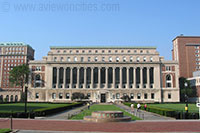 Butler Library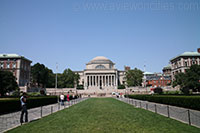 Central Quadrangle
Other newer but equally impressive buildings include the Sherman Fairchild Center for the Life Sciences and the Morris A. Schapiro Center for Engineering and Physical Science Research. The former, a seven-story building, houses the Department of Biological Sciences. The Schapiro Center reflects the nineteenth-century styling of the campus but contains a number of more contemporary elements as well, including the liberal use of metal and ceramic-patterned glass.
Jerome L. Green Hall, the main building for the Law School, is also quite wonderful. It was designed by Max Abramovitz, one of the architects who designed the United Nations Headquarters. Also check out Butler Library, Alfred Lerner Hall, and Earl Hall, another one of the oldest buildings on campus.