The Audubon Aquarium of the Americas is a large aquarium complex with some 500 different species of sea creatures. It is part of the Audubon Nature Institute, which also operates the Audubon Zoo.
The Aquarium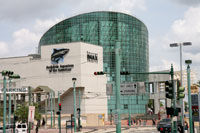 Aquarium of the Americas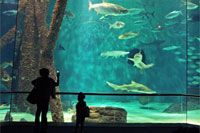 Gulf of Mexico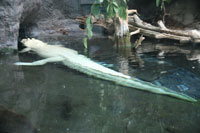 White Alligator
The aquarium opened in 1990 near the Mississippi River as part of a riverside development project that also included the creation of the Woldenberg Park and replaced dilapidated warehouses. The emphasis of the aquarium is on the waters in the region around New Orleans, including the Gulf of Mexico and the Caribbean.
In 2005 Hurricane Katrina caused significant damage to the aquarium. Thousands of fish were lost when its filtering and control systems stopped functioning. The aquarium reopened in May the following year.
Highlights
One of the highlights of the Audubon Aquarium is a rare white alligator, which can be seen in the Mississippi River Gallery. An enormous 400,000 gallon (1.5 million liter) water tank with a replica of an oil rig shows species that live in the Gulf of Mexico, including sharks and sting rays. And a 30-ft-long (9 m.) tunnel through another large tank allows visitors to see the marine life of the Caribbean reef up close.
There's more than just water tanks in the Audubon Aquarium. Inside the large, glass cylinder that is visible from the outside of the aquarium, visitors find a recreation of the Amazon Rainforest, a steamy place where you can walk on small wooden bridges through tropical plants and fauna.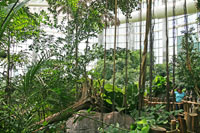 Amazon Rainforest
There are many more animals to see in the aquarium, including penguins, sea otters, seahorses, jellyfish, frogs and other amphibians. And in the shark cove you can see different sorts of often weirdly shaped sharks such as the wobbegong, a carpet shark.