A trip to New Orleans isn't complete without a visit to the historic French Market. All sorts of products are sold here, from T-shirts and snacks to the typically New Orleans' strings of beads.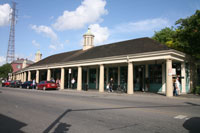 French Market
Ever since the 1720s, the site of the French Market has been a marketplace. It was conveniently located near the riverside so farmers and merchants could easily bring their wares here.
In 1791 a first enclosed market was built here to protect the produce from the elements. During the nineteenth century the market was one of the most exotic on the continent, with Native Indians, Creoles, African Americans and European immigrants all selling goods here.
French Market
Today the French Market is less exotic and more catered to the many tourists that pass here. The market stretches for three blocks from Jackson Square to Ursulines street along Decatur and North Peters Street.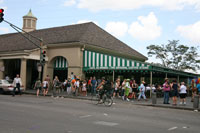 Café du Monde
It is housed in colonnaded market halls, the oldest of which – the Halle des Boucheries or Butchers' Hall – was built in 1813 and restored in 1975. The other halls, the Cuisine Market and Bazaar Market, were built later.
In the market halls you'll find a diverse number of stalls as well as some cafés, where you can relax while listening to live Jazz music. The most famous of these is the one hundred year old Café du Monde, famous for its beignets with coffee. You can find it at the southernmost end of the Butchers' Hall, right near Jackson Square.
Farmers' Market and Flea Market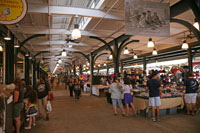 Inside the Market Halls
Walking further downriver, you'll find two more blocks of covered markets: the Farmers' Market and the Flea Market.
In the Farmers' market you can buy fresh produce, herbs, seafood, meat as well as some delicacies. You can also stop here for and have a taste of Creole food.
The Flea Market has stalls with mostly tourist-targeted items including clothes, jewelry and Mardi Gras masks. Both the Farmers' Market and the Flea Market are commonly associated with the French Market, so when people refer to the French Market they often mean the five block long area including the French, Farmers' and Flea Market.