Near the Olympiapark are the headquarters of Bayerische Motoren Werke AG (BMW), one of the largest companies in Munich. It is home to a museum dedicated to the history of the famous automotive brand.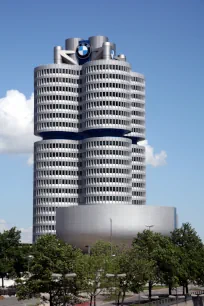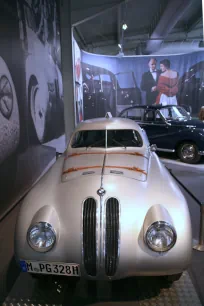 Concise company history
Founded in 1913, BMW started building airplane engines in 1917. In 1923, BMW started building motorbikes and eventually in 1928 they started with the production of cars.
Shortly after the Second World War, BMW's factories were dismantled by the Allied Forces and the company was only allowed to manufacture household utensils and bicycles.
In 1950 BMW returned to the production of cars. After a slow start, the company focused on luxury cars, becoming one of the most admired carmakers in the world.
BMW Museum
The main attraction for the hundreds of thousands of visitors that visit BMW yearly is the four-cylinder BMW tower and the bowl-shaped museum next to it.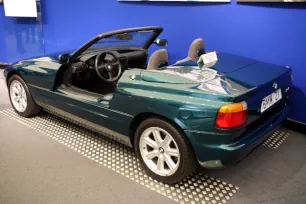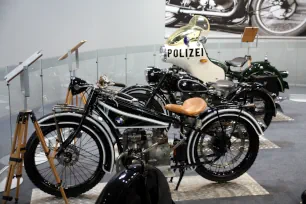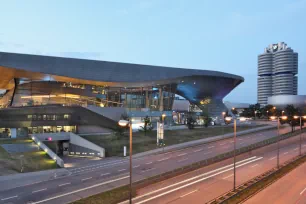 The museum showcases the technical development of cars and motorcycles and also has some exhibits about the history of the company. Many old cars and motorcycles are on display along a spiral ramp that curls along the inside of the bowl-shaped building.
Some of the cars here include a Dixi car from 1928, the funny-looking Isetta and sports cars such as the BMW 328, known for its victory in the historic Mille Miglia race in Italy. There are also more recent models on display, such as the BMW 850.
BMW Tower
The main office building, officially called the BMW-verwaltungsgebäude (BMW administrative building), was designed by the Viennese architect Karl Schwarzer after a four-cylinder engine. The aluminium-clad tower was completed in 1972, just before the Olympics took place in the Olympiapark, right next to the building.
BMW Welt
In 2008 BMW opened another attraction across the street, set in a spectacular modern structure: BMW Welt (BMW World). In the multifunctional complex, new owners can pick up their car and visitors can see exhibitions of cars and technological developments in the Markenwelt (World of Brands). The building, which is connected to the BMW Museum via a pedestrian bridge, is also home to a number of restaurants and BMW-themed stores.