The Alte Münze (Old Mint) is the site of the former royal mint of Bavaria. The building boasts one of Munich's most beautiful courtyards. Known as the Münzhof (Mint Courtyard), it is enclosed by Renaissance-style arcades.
History
The Royal Mews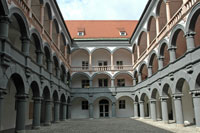 Münzhof
The building started its life as a mews, which was commissioned by duke Albrecht V of Bavaria. The building was probably designed by Bernhard Zwitzel of Augsburg and constructed by Wilhelm Egckl between 1563 and 1567. It was conveniently situated between the Alter Hof and the now destroyed Neuveste, the two main residences of the Wittelsbach rulers, and was connected to both. Today it is still connected to the Alter Hof by a covered arch that spans Pfisterstraße.
The building housed the horses and carriages of the Bavarian dukes on the ground floor, while the upper floors housed a library and the Wittelsbach art collection, at the time one of Europe's finest collections of art.
Old Mint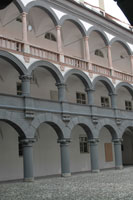 The three-tiered
arcade
In 1809 the mews was reconverted into a mint, hence its name Alte Münze. The mint moved out in 1983 and three years later the building became the home of the Bavarian office for the Preservation of Monuments.
Architecture
Facade
During its reconversion in 1809 the exterior facades of the mews were rebuilt in neoclassical style. The main entrance on Hofgraben features a classical front with a triangular pediment. Allegorical statues on the pediment represent gold, silver and bronze. Below the pediment, you can see a panel with the inscription 'Moneta Regia', Latin for 'Royal Mint'.
Courtyard
But the main attraction of the Old Mint Building is the Münzhof, the magnificent courtyard. The courtyard, which is still authentic, is surrounded by a three-tiered arcade designed in a Renaissance style with a local flavor; the arcade has sturdier columns and wider arches than usual.