Located in the area known as the Vieux-Port (Old Port of Montreal), the Tour de l'Horloge, or "Clock Tower" in English, is often referred to as the Sailors' Memorial Clock.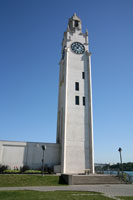 Tour de l'Horloge
Marking the entrance to the Old Port, the Clock Tower was built between 1919 and 1922. The cornerstone was laid by Edward, Prince of Wales on October 31, 1919. The tower was erected in honor of the Canadian sailors who lost their lives in World War I. Chief Engineer F. W. Cowie was responsible for the construction of the tower, which was designed by another engineer, Paul LeClaire.
The Clock
The mechanism inside the clock was manufactured by Gillett and Johnston of Croydon, England, and is a replica of the one inside London's Big Ben.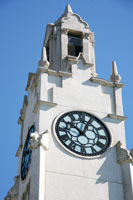 The clock face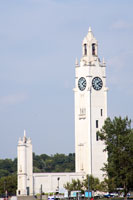 The two towers
Known for its accuracy, the Tour de l'Horloge long functioned as the timekeeper for those who worked at the Port of Montreal. It also served as a lighthouse and guide for incoming ships. In addition, the Clock Tower, which is connected by a twelve-meter-long wall to a smaller, decorative tower, had a very practical application as well. It was built to conceal the rather unattractive sheds that lined the quays behind the tower, allowing the port to maintain a pristine look.
The lookout
Standing about 45 meters (150 feet) tall, the clock tower is a frequent subject of photographs and visitors can opt to climb the 192 steps to the top of the Tour de l'Horloge in order to admire the view of the harbor, the St. Lawrence River, and other surrounding areas. There are a few exhibits inside that trace the history of Montreal and the city's maritime traditions. It was originally intended that the tower would also contain a five-bell carillon, but that plan never came to fruition.
The Clock Tower received Federal Heritage Building status in 1996 and is considered a true treasure of old Montreal. At sunset, the lights around the tower are illuminated, making for a very attractive photo opportunity.