Once a part of Montreal's wonderful Expo '67, the buildings that house the Casino de Montréal are nothing short of spectacular.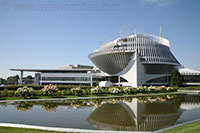 Casino de Montreal
In 1967, many countries came together in Montréal to enjoy a time of peace and diversity amidst a world that was troubled with war and other challenges. These countries built wonderful pavilions that showcased their arts and culture and millions came to view them.
One of the most architecturally modern buildings was the magnificent French Pavilion, a tall concrete and steel structure, wrapped in shiny aluminum "fins". Architects said that it was modeled on "the fine art of sculpture". The pavilion was visible throughout most of the fairgrounds and was lauded for its uniqueness and its open, airy feeling.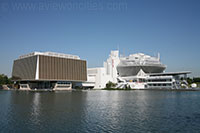 Quebec Pavilion (left) and
France Pavilion (right)
Inside, the French theme was "Tradition and Invention" and the eight stories of the pavilion contained exhibits outlining the country's progress in technology and science. On the rooftop terrace were sculptures by French artist, Niki de Sainte-Phalle. This garden was a favorite with visitors and provided a bird's-eye view of the entire Expo.
The former Quebec Pavilion, situated beside the French Pavilion, also became a part of the casino complex. Not as unusual as its French counterpart but equally as contemporary for the time, the exterior consisted of glass walls which served as mirrors during the day and illuminated "display cases" during the nighttime. It was surrounded by water and accessible via a footbridge.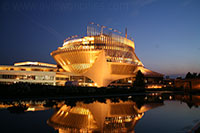 The casino at night
Its exhibits focused on Québec as a progressive province with its eye on tomorrow.
The Casino Today
The Montréal Casino, situated on the Île Notre-Dame, makes use of both of these wonderful buildings as well as an annex building that joins them together. The main building has five stories and features about 3200 slot machines and more than 120 gaming tables. There are also four restaurants, four bars, a cabaret, and meeting and banquet facilities.