Dubbed by N.Y.-based Project for Public Spaces as "the closest thing to a European neighborhood square you'll find this side of the Atlantic", St. Louis Square attracts a variety of locals and tourists.
History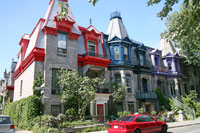 Picturesque houses
at Square St-Louis
The land where Saint-Louis Square sits was once intended for the city's reservoir. When the land was acquired by the city in 1848, it seemed the most logical use for the burgeoning city. However, by the time the city was ready to build, the population had grown so much that the amount of area allotted was no longer suitable for a reservoir large enough to serve the masses.
Instead, in 1879, the acreage was transformed into a beautiful park. The square was named for two of the city's most prominent businessmen, brothers Emmanuel and Jean-Baptiste Saint-Louis.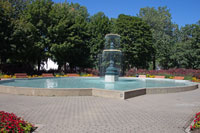 The central fountain
The area around Square St-Louis quickly became THE place to live. Shortly after the park was built, magnificent houses began to spring up around it. These were the homes of the upper-middle-class French Canadians who could afford to build grand domiciles with a view of the square. Through the years, these ornate nineteenth century houses have also been favored by Montreal's artistic set, including writers, poets, musicians, actors, film makers, and visual artists.
The Houses
Rowhouses near the square
The homes are quite diverse. Some are decorated with delicate wrought iron trim, others boast Victorian "gingerbread", and still others are miniature adaptations of seventeenth-century French castles. All are worth the time spent to explore them and you may even run into a Canadian celebrity or two.
A classic Victorian fountain sits in the middle of the square and sometimes serves as a place for eccentric locals to cool off. There's also a gazebo that currently serves as a snack bar.
The park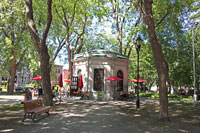 While the homes that surround St. Louis Square are the number one reason to visit the park, those that hang-out there are another reason to make your way to this pretty square. While the weekdays are pretty calm and the park is most often used by business people on their lunch hour or mothers taking their children for walks, in the evenings and on weekends, a variety of "characters" assume their spot in the park. (If you're bothered by a few homeless people and those who've had too much to drink, you should avoid the square on the weekends.)
The abundant benches throughout are the perfect place to spend some quiet time enjoying the sights and the sunshine. Spreading out on the grass to catch some rays is also commonplace. You may even catch a concert or two – planned or impromptu.