The chapel of Notre-Dame-de-Bon-Secours has a long history, closely linked to Marguerite Bourgeoys, who arrived in 1653 in the fledgling colonial settlement of Ville-Marie (now Montreal) to help with the education of the settlers' children.
History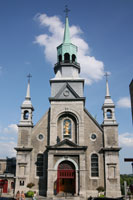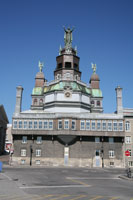 Chapelle Notre-Dame-
de-Bon-Secours
In 1655, Marguerite Bourgeoys, in return for her unpaid work, requested the construction of a new chapel dedicated the Virgin Mary, after whom the settlement, Ville Marie, was named. When the chapel was finally completed thirteen years later, it was the very first stone church in the region.
In 1754 the chapel burned to the ground, but already in 1771 a new church – the one we see today – was built over the ruins. Over the years the building was altered many times. In 1885 the steeple was built and an ornamental tower with an 'aerial chapel' and views over the St. Lawrence River was completed in 1893.
The chapel's current appearance is the result of a final alteration in 1953, when both the steeple and tower were lowered.
Chapel
The chapel is known as the Sailors' Church, since many devout sailors prayed here for safe passage. These seamen also donated votive lamps in the shape of model ships that you can see hanging suspended from the ceiling.
There is some interesting artwork from native Quebec artists inside the chapel, including 'Typhus' by Théophile Hamel – a poignant picture of nuns treating the sick – and, on the back wall, portraits of Marguerite Bourgeoys and Paul de Chomedey de Maisonneuve by Ozias Leduc. The ceiling of the chapel is decorated with beautiful frescoes that depict the life of Mary.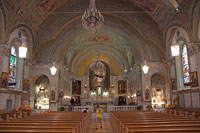 Interior
In the chapel dedicated to Marguerite Bourgeoys is a small oak statue of a Madonna and Child, which was given to Marguerite in 1672. The statue, which survived several fires, is said to have miraculous powers and was the object of veneration.
In the crypt of the chapel you can still see the foundations of the original building and there are even traces uncovered of a wooden palisade and a settlement of an indigenous tribe.
Museum
A small museum in the chapel and adjoining schoolhouse is dedicated to the life of Marguerite Bourgeoys. This pious woman opened the first school in the city and also helped and housed the young girls who were sent from France to marry settlers. In the museum, the important events in her long and extraordinary life are visualized with the help of miniature figures.
The museum also gives you the opportunity to visit the tower of the chapel, which offers panoramic views of Montreal's Old Port.