Place Jean-Paul Riopelle is a small square in downtown Montreal, bordered by Montreal's convention center. The main attraction of the square is an animated fountain with a display that includes a ring of fire.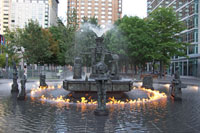 Place Jean-Paul Riopelle
The square was created in 2004 on the site of a former parking lot. It is named after Jean-Paul Riopelle, a local painter and sculptor who is one of only a handful Canadian artists who received international acclaim for their work. He is honored with a statue on the square, entitled "Le Grand Jean-Paul" (the great Jean-Paul), created in 2003 by the French sculptor Roseline Granet.
The majority of the square is designed as an urban forest with eighty-eight trees of a variety of species of Maple and Hickory trees planted in a grid pattern. Plenty of benches are available for the nearby office workers who come here on their lunch break.
Palais des Congrès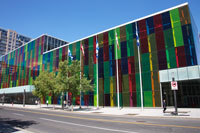 Palais des Congrès
The Palais des Congrès de Montréal, a large convention center, borders the Place Jean-Paul Riopelle to the north. Its kaleidoscopic facade consisting of 332 colored glass panels demands the attraction of passers-by. The facade is part of a 2000-2002 expansion of the original convention center from the 1970s.
Inside, the Hall Place Riopelle, which is connected to the Underground City and hence accessible to the public, is just as colorful thanks to a modern sculpture known as 'Lipstick Forest', a creation of the Quebec landscape architect Claude Cormier, who designed 52 pink-colored tree sculptures, each with a unique shape.
La Joute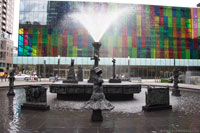 La Joute during the day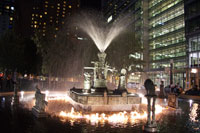 La Joute at night
As much as the colorful panels of the Palais des Congrès attract the attention, the real star of the square is the fountain in front of the convention center's main entrance. The fountain, which bears the name 'La Joute' (the Joust), was created in 1969 by Jean-Paul Riopelle and installed here in 2003. The fountain consists of bronze sculptures resembling Aztec and mythical figures that are placed in a basin around a central sculpture with a jet that shoots up a spray of water.
The main draw of the fountain is its animated display which is particularly mesmerizing at night. The whole display takes about thirty minutes. It starts with the release of clouds of mist, not only in the fountain, but all over the square. It culminates in a spectacular ring of fire that appears right above the water surface. Meanwhile the fountain's water spray changes in shape and strength. The display starts every hour between May and October, from 18:30 until 23:05.