Together with the adjoining Place du Canada, Dorchester Square is considered the heart of downtown Montreal. Statues are scattered throughout the pleasant green square, which is bordered by impressive buildings.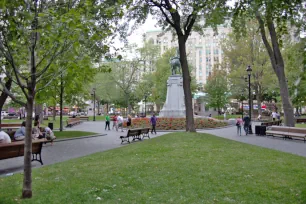 Dorchester Square is an important gathering point for both locals and tourists. It is particularly busy in summertime, when nearby office workers come here on their lunch break.
History
Until 1854 the area was used as a Catholic cemetery. Some of those who were buried here have been moved to the Notre-Dame-des-Neiges Cemetery on Mount Royal. Others were left here, and are remembered by small crosses that are embedded in the pavement.
In 1869 the square, which also encompassed the now separate Place du Canada, became an official public park, and was named Dominion Square in reference to the creation of the federal Dominion of Canada in 1867. It was given the name Dorchester Square in 1988, in honor of Lord Dorchester, former governor of British North-America.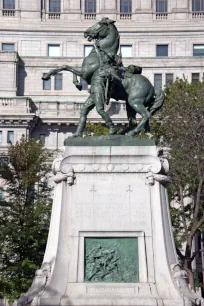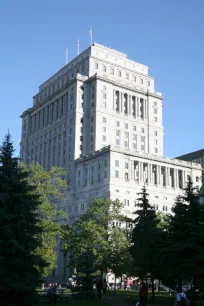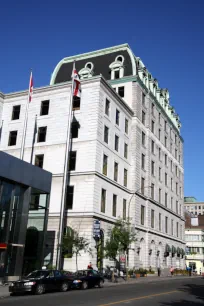 Monuments
There are several monuments installed on the square, the most prominent of which is the Boer War Memorial, also known as Strathcona's Horse. The large monument remembers the Montrealers who were killed in the Second Boer War. The monument, which was unveiled in 1907, was created by George W. Hill and shows a soldier restraining a horse.
Other monuments honor Wilfred Laurier, the first French Canadian prime minister of Canada, the Scottish poet Robert Burns and Queen Victoria. The latter's monument consists of a fountain pedestal topped with a huge lion statue, a replica of Frédéric Bartholdi's Lion of Belfort. It commemorates the Diamond Jubilee of Queen Victoria, at the time Canada's sovereign.
Buildings
Dorchester Square is surrounded by some impressive edifices. The largest among them is the Sun Life Building, which borders the square on the east side. It was originally built in 1913 as a seven-story tower for the Sun Life Insurance Company. In 1923-1931 it was significantly expanded with a 122-meter-tall (400ft) tower and two imposing wings. At the time the Sun-Life Building was the tallest building in the British Empire. The construction of the tower symbolized the shift of Montreal's downtown core from the old town to the new city.
From the same era is the Dominion Square Building, a magnificent structure built in a neo-Renaissance style on the northern side of Dorchester Square. It was billed as the largest commercial building in Canada when it opened in 1929. On the ground floor is the official tourist information center of Montreal.
Another famous building is the Windsor Hotel, or what is left of it. Inaugurated in 1878, the hotel was destroyed by fire in 1957 and what now remains is a later annex. Today an office building, the Windsor's opulent ballrooms are a reminder its glamorous past when the hotel welcomed famous visitors including British royals, Winston Churchill and John F. Kennedy.