Christ Church Cathedral is the mother church of the Anglican diocese of Montreal. The church was built in 1857-1860 at the instigation of Montreal's first Anglican bishop, Francis Fulford.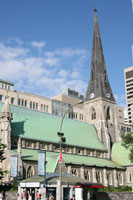 Christ Church Cathedral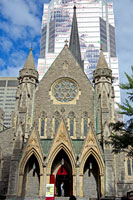 Front facade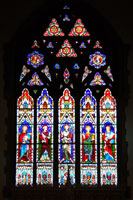 Window in the chancel
The church replaced an earlier Anglican church from 1814 that stood in Old Montreal but burned to the ground in 1856.
The new church was built on a remote site in an area known as The Marshes. Its design, in a Gothic Revival style created by Frank Wills and Thomas Seaton Scott, was inspired by English medieval churches.
Interior
The church has a Latin cross floor plan with a central nave separated from the aisles by columns with Gothic pointed arches. The capitals of the columns are sculpted with leaves of native trees.
Most of the stained-glass windows, designed in the Gothic style, were created in England by the firm of William Morris. The window in the chancel is particularly beautiful. Right below this window is a beautiful stone altar screen. The church organ was created in 1980 by Karl Wilhelm, an organ manufacturer from Quebec.
Exterior
The exterior of the limestone church is marked by its striking triple portico with tall pointed arches. The spire, which reaches a height of 68.5 meters (225 ft), was originally made of stone but in 1940 it was rebuilt in aluminum since the steeple was too heavy for the foundations and the church started to slowly lean and sink into the ground.
Church on Stilts
Despite the lighter spire the church building was still found to be unstable and in the 1980s the church authorities approached development companies to tackle the problem.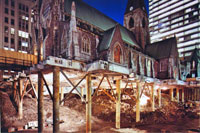 The church on stilts
In exchange for a land lease, the developers promised to stabilize the church's foundations without touching the church itself. They achieved this by removing soil below the church while creating caissons to build 17-meter-tall (55 ft.) concrete columns. These columns are anchored on solid bedrock and support the church's weight – a massive 5443 tons (over 12 million pounds). Contemporary photos show the unreal sight of a church set on a platform supported only by tall stilts.
While the church was sitting in its precarious position, a shopping mall, the Promenades Cathédrale, was built underneath the structure. It opened in 1988 and is conveniently connected to both the subway and the Réso. During the year-long construction period, the church remained accessible at all times.