Montreal's grandest railroad station is a designated national historic site. The building has been redeveloped and is no longer in use as a train station.
Building the Station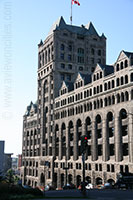 In the 1880s, when Canadian Pacific (CPR) was poised to build a new station in Montreal for its burgeoning railroad, president William Van Horne chose New York architect Bruce Price to do the honors. Price had recently completed designs for the Banff Springs Hotel in Alberta and was the designer of Quebec City's Château Frontenac, two very grand structures.
After submitting several designs, Van Horne chose a Richardsonian-style creation and building commenced in 1887. Completed two years later, Windsor Station cost about $300,000 Canadian dollars. As train stations go, it was one of the most elaborate, with an ornate vaulted waiting room, a separate woman's waiting room, barbershop, and shower facilities for travelers.
Additions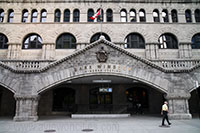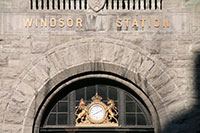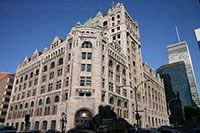 The need to enlarge Windsor Station was evident by around the turn of the century. This time, Canadian architect Edward Maxwell was chosen to design a wing that would be added to the western portion of the building. Maxwell's design, built between 1900 and 1906, included an elegant five-arch open carriageway and conformed closely to the designs of the original building.
Yet another building was needed in 1906 to house the Dominion Express Company, a subsidiary of Canadian Pacific. CPR's new "house architect", W.S. Painter, built a nondescript concrete structure that disappointed the railroad and the citizens of Montreal. Often dubbed "the mud hut", it was eventually torn down in 1973.
Painter had the opportunity to redeem himself by designing yet another addition in 1909. This one would extend the other side of the original station building and double its size. This time, he didn't disappoint. Completed in 1914, the new addition featured a magnificent fifteen-story tower and a beautiful glass-roofed passenger concourse.
Another small building was added in 1954 to house railroad offices. Contemporary in style, the addition never received the acclaim that the other portions of the station received.
From 1978 to 1984, CPR performed major renovations on Windsor Station, and in 1990, it was declared the first Heritage Railroad Station in Canada. When the nearby Molson Centre was built in the late 1990s, a new station replaced Gare Windsor, and it is now used only as offices for the railroad and as a home for Canadian Pacific Railway's archives.