Visitors to Buckingham Palace can make a side trip to the Royal Mews, one of the finest examples in the world of a working stable. Here you find sumptuous vehicles, including a magnificent gold state coach.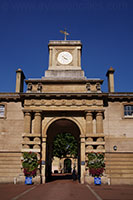 Doric Arch
The Royal Mews, located beside Buckingham Palace, is the headquarters for the department of the Royal Household, which provides transport by road via both motorcars and horse-drawn carriages for The Queen and other members of the Royal Family.
History
Established shortly after King George III purchased Buckingham Palace in 1760, the Royal Mews has always been an important part of the royal home in London, even in modern times when automobile travel is the norm and horses and carriages are only used for special occasions.
It seems that England's royal families have always had an affinity for horses. When John Nash remodeled Buckingham Palace in 1820, he took the small stables and turned them into a grand structure, recognizing their importance to the then royal family.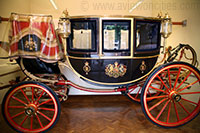 State Coach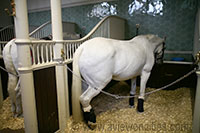 The stables
When Queen Victoria assumed the throne less than two decades later in 1837, she moved into Buckingham Palace and had the Royal Mews enhanced yet again.
Throughout the decades, other additions have been made, including a riding school, a forge, and more stables. The mews also now houses the royal family's fleet of automobiles as well as thirty horses, plus living quarters for the horses' handlers and their families. Currently, most of the horses in the stables are Windsor Greys and Cleveland Bays.
State Coaches
A visit to the Royal Mews allows guests a look at a permanent display of impressive State vehicles, a selection of ceremonial horse-drawn carriages and coaches. The most famous of the collection owned by the Royal Family is the magnificent Gold State Coach, which is only used for coronations or very special occasions, like the Queen's Golden Jubilee in 2002.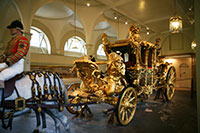 Gold State Coach
The fairy-tale coach was built in 1762 for king George III. It is gilded with 22-carat gold leaf and sumptuously decorated with sculptures of cherubs, tritons and dolphins. The panels on the carriage were painted by the Italian artist Giovanni Cipriani. The coach, seven meters long, weighs four tonnes and is drawn by a span of eight horses.
Visiting the Royal Mews
There is a small admission charge to tour the Royal Mews, but the majority of the funds are used for the upkeep of the building and the care of animals that live inside. Guided tours depart at regular intervals throughout the day, from March through October. Special family activities are held at the Royal Mews on Saturday and Sunday, with fun and educational events geared for children up to age eleven.