Known simply as "The Monument", this London landmark plays homage to those who died in the Great Fire of 1666. The monument was built near the site where the disastrous fire broke out.
The Great Fire

Painting of the
Great Fire
On Sunday, September 2, 1666, a fire began at a bakery on Pudding Lane in London and wasn't fully extinguished until three days later. During that time, much of the city burned, and several individuals lost their lives. Property loss was great and all activity in the city pretty much came to a halt. The only properties that survived intact were the ones fashioned mostly from stone.
The Monument
Construction

The Monument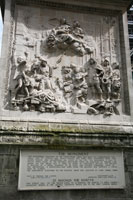 Relief sculpture
In response to the fire, in 1671 the city commissioned the building of a memorial to commemorate this tragic event. Famed architect Sir Christopher Wren was chosen to design the monument. Wren was, at that time, General Surveyor to King Charles II and was in charge of the rebuilding of the St. Paul's Cathedral. Wren was assisted by Dr. Robert Hooke.
Design
The men decided a single Doric column would be best, and the structure was completed in 1677. A gilded urn with a sphere in flames, symbolizing the Great Fire, sits at the top of the 62-meter-tall (202 ft) monument. The Monument was built at the site of the church of St. Margaret, New Fish Street, one of eighty-seven churches that burned down during the Great Fire. The height of The Monument is the same as the distance from the site on which it stands to the baker's home where the fire began.
Inside the column, which is fashioned from Portland stone, is a spiral staircase of 345 stairs, the first 311 bringing visitors to a balcony where they can enjoy an unmatched view of the city, particularly the Port of London neighborhood.
Sculptures
Other architects and sculptors were involved in the building of The Monument as well. The four dragons that sit at the corners of the base were sculpted by Edward Pierce Jr. and Caius Gabriel Cibber crafted the relief sculpture on the west panel on the pedestal.
The relief shows the allegorical figure of the City of London slumped to the ground. She is supported by an angel and a figure that protects her against evil. In the background you can see the city in flames and in a corner a devil is depicted holding a torch.
Inscriptions on the base inform visitors as to specifics about the fire and monument.
Another Monument
A counterpart of The Monument stands on the spot where the Great Fire was finally extinguished. This monument is called Temple Column and is situated close to the Temple Church in a historic area known simply as Temple.