The O2 Arena was built at the end of the twentieth century as an exhibition hall to celebrate the start of the new millennium. Today, the futuristic looking arena is one of the world's premier concert venues.
History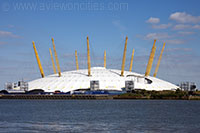 O2 Arena
In 1994, the Chairman of what would later become the New Millennium Experience Company suggested a national exhibition to be held as part of the country's millennium celebrations. The project, to be funded mainly by the National Lottery, was revised when Tony Blair became the new Prime Minister in 1997.
He declared that the exhibition, to be held in Greenwich, would open a window on the future. The focus would be on entertainment and education (also dubbed 'edutainment'). This resulted in fourteen themed zones, including Faith, Talk, Mind, Rest, Home Planet, Body and Learning.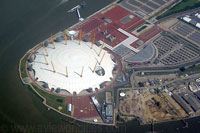 The O2 Arena seen from the air
The Millennium Exhibition
The project was controversial from the start. The Millennium Dome, a large domed structure that was built on the meridian in Greenwich to house the exhibition, had an estimated cost of £750 million and was disliked by many Londoners, who did not see it as a proper symbol for their city.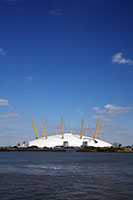 Due to the focus on education and the high entrance fee, the Dome did not attract as many visitors as originally forecasted: a total of seven million people visited the exposition, compared to the original estimate of twelve million visitors. Even with each of the separate themes in the Dome sponsored by major corporations, the project had a serious budget deficit. The millennium exhibition ran until the end of 2000.
O2
In 2005 the Millennium Dome was renamed O2, after the mobile phone company. At the same time, it was converted into a multifunctional entertainment complex. The arena now hosts many different events, including exhibitions and concerts. At its center is a large concert hall with a capacity of 20,000 people. Several other halls include areas for more intimate concerts, cinemas and exhibitions.
The Dome's Structure
The cover of the Dome is made of PTFE-coated glass fiber, which has an estimated minimum lifetime of 25 years. The structure, designed by the Richard Rogers Partnership, has a diameter of 365 meters (1,200 feet) and reaches a height of 52 meters at its center. It is twice the size of the original Wembley Stadium. The structure is expected to last until 2018. After that year, developers are allowed to demolish the dome and redevelop the site.
Location
The arena, located near the Thames across Canary Wharf, can be reached via the Jubilee line. The underground station is one of the largest in Europe.