Long the home of many of the most famous kings and queens of England, St. James's Palace was built by King Henry VIII between 1531 and 1536. Even today, the palace is still actively used by the British royals.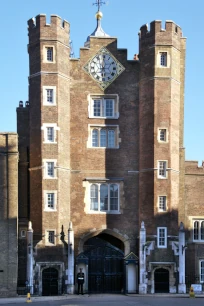 This magnificent brick palace became the principal royal residence in 1702 when Whitehall Palace was destroyed by fire and Queen Anne moved to St. James. Even today, it's still the "official" residence of the sovereign, even though Buckingham Palace became the new chief residence after Queen Victoria ascended to the throne in 1837. Many ceremonial court functions continue to be held here.
The History of St. James's Palace
When Henry VIII commissioned the palace in the year 1530, he chose to build it on the site of a former leper hospital for women, which had been named in honor of St. James. The original red-brick Tudor-style palace surrounded four courtyards and was one of the grandest buildings of its time, containing a chapel, gatehouse, and some state apartments. Visitors can still see Henry's insignia at the gatehouse.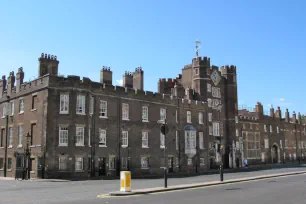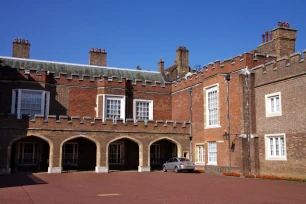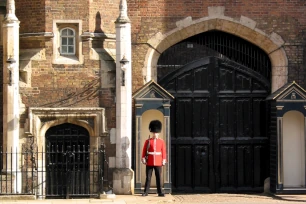 Important events in history were played out at St. James. Henry VIII's illegitimate son died here. Anne Boleyn stayed at St. James the night after her coronation and her initials, intertwined with Henry's, can be found on a number of fireplaces scattered throughout the palace.
It was at St. James that Mary Tudor signed the treaty surrendering Calais. Elizabeth I lived here for some time and the future Charles II and James II were both born and baptized at St James's, as were Mary of York (Mary II), Anne of York (Queen Anne) and James Francis Edward Stuart.
Queen Victoria's wedding to Albert took place at the palace in 1840 and more than a century later, Queen Elizabeth II made her first speech here. The Queen Mother also lived here until her death in 2002.
After the Fire
Much of the south and east portions of the palace were destroyed by fire in 1809. However, the state rooms were restored by 1813. Shortly thereafter, the four brothers of George IV were presented with four houses within the walls of the palace, including Clarence House, which was the residence of Charles, Prince of Wales, before he became king.
The state apartments were enlarged by famed British architect Sir Christopher Wren and later embellished by William Kent, and still contain some stunning pieces of antique furnishings and tapestries from that era.
St. James's Palace Today
St. James is still a working palace, though the monarchy has not lived there in quite some time. The palace is not open to the general public, but visitors can view the Household Cavalry guards on the premises, like those seen at Buckingham Palace. Adjoining Queen's Chapel is open to the public at specified times.