Covent Garden is one of the London's biggest tourist magnets. The area around the glass-covered building – a former fruit and vegetable market – is always crowded, especially during weekends and in summer.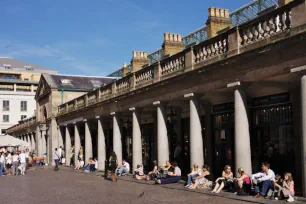 Covent Garden is known for its many open-air cafés, restaurants, pubs, market stalls and shops. Famous are the many street performers who entertain the visitors on the pedestrianized piazza.
A former floral market now houses the London Transport Museum. The Covent Garden district is also home to several theaters and the Royal Opera House.
London's First Public Square
In the Middle Ages, the current square was a vegetable field known as the convent garden: it supplied food to the monks of the nearby convent of St. Peter, Westminster. In 1540 King Henry VIII confiscated the lands of the monasteries and the land was given to John Baron Russell, the first Earl of Bedford.
In 1632 the 4th Earl of Bedford, Francis Russell, commissioned the renowned architect Inigo Jones to develop the area into a luxury neighborhood. Heavily influenced by the piazzas of Rome, Jones created London's first public square, surrounded by arcaded buildings and dominated by the church of St. Paul.
The Market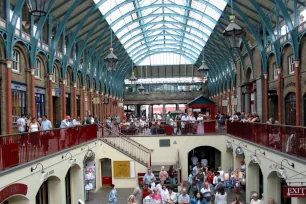 The now high-class neighborhood soon started to decline. During the civil war, which started in 1642, many houses around the square were empty. Some of them were now used as shops.
When the Great Fire of London destroyed the markets in the city, many businesses moved to Covent Garden. The market kept expanding until it occupied the whole square.
In 1830 a central market building was constructed in the center of the square. The glass roofs over the aisles were added later, the first in 1875 and the other in 1889. The Flower Market building was added in 1870 and in 1904 the Jubilee Market was completed.
Shopping & Leisure Center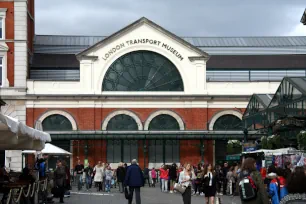 Already in 1921, the government decided the location in a crowded central section of London was unsuited for the market. It would take until 1973 before the market finally moved out to Nine Elms.
Real estate developers planned to tear down most of the now emptied houses and markets at Covent Garden. A new district with hotels and office blocks would replace the old buildings, but campaigns by local residents and opposition by the general public prevented the demolition of the markets. The plans were changed, and the buildings were restored. The transformation into the current shopping and leisure center was remarkably successful: Covent Garden now attracts some thirty million visitors each year.