The Elevador de Santa Justa is an iron elevator built in the nineteenth century to connect the Baixa district with the higher situated Bairro Alto district. The Gothic looking elevator is one of the most popular attractions in the center of Lisbon.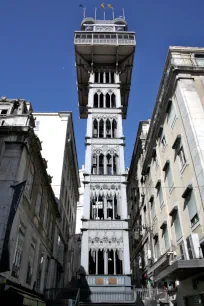 For centuries, the many steep hills posed significant challenges to Lisbon's citizens. Several solutions were devised to help people overcome the steep slopes. Initially, inclines pulled by animals were used.
During the industrial age, several steam-powered funiculars – such as the Elevador da Gloria – were created and are still in use to this day in an electrified form. One of the inclines was replaced with a large elevator, the Elevador de Santa Justa, now the most famous of all Lisbon's 'Elevadors'.
Construction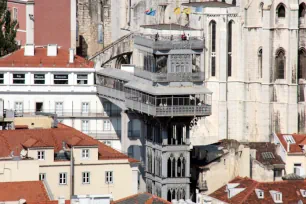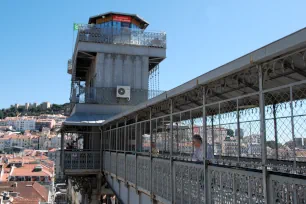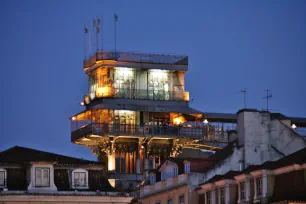 The beautifully decorated elevator was built by the Portuguese engineer Raoul Mesnier du Ponsard, a student of Gustave Eiffel.
He designed a striking Neo-Gothic iron structure that towers over the area. Completed in 1901, it offered an easy way of reaching the Bairro Alto (Higher District) from the thirty-two meters lower situated Baixa district. Originally, the elevator was powered by a steam engine, which was replaced by an electrical one in 1906.
The Tower
The forty-five meter (148 ft) tall landmark tower is located near the Rua do Carmo (Carmo Street), close to the Rossio Square. The tower looks surprisingly elegant thanks to the beautiful Gothic arched windows with iron geometric tracery. Inside the tower shaft are two cages that counterbalance each other. Each wood-paneled cage has room for up to twenty-five people.
At the top, a covered bridge and a ramp connect the Santa Justa elevator with Largo do Carmo (Carmo Square), passing the ruins of the Carmo Church along the way. From the very top of the elevator you have a nice, albeit obstructed view of the area.
For a better lookout over the Baixa district, ascend the narrow staircase. This brings you to the tower's rooftop where you have a wide open view.
Escalators
For almost a century the Santa Justa Elevator was the most convenient way to reach the Bairro Alto and Chiado districts from Baixa, but since 1998 with the opening of the underground Baixa-Chiado metro station nearby visitors can now also use the series of escalators that lead straight to the Chiado Square.
Most tourists however will at least once take a ride on the Santa Justa elevator, if only for its historic significance. The ride itself and the views are much more interesting as well. The elevator is part of the metro system, but if you don't have a transportation ticket or pass yet, you can buy one on site.