The Monument to the Discoveries was built in honor of Henry the Navigator, who was instrumental in the success of the Portuguese explorations during the fifteenth century, a period now known as the Age of Discoveries.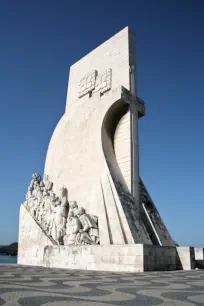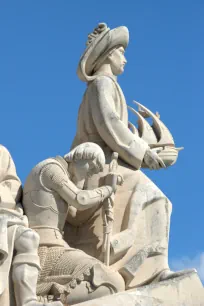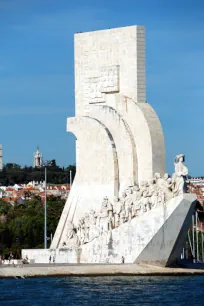 The Age of Discoveries started in 1415 with the capture of the North African city of Ceuta by the Portuguese and reached a peak at the turn of the sixteenth century when Vasco da Gama discovered a shorter route to India and Pedro Álvares Cabral discovered Brazil. The creation of trade posts and colonies on the new trade routes led to a Portuguese empire that spanned three continents, bringing wealth to Portugal and Lisbon in particular.
World Exhibition
The Monument to the Discoveries was originally built for the 1940 World Exhibition. It celebrated the achievements of explorers during the Age of Discoveries and the creation of Portugal's empire. The monument was only built as a temporary structure, and it was demolished a couple of years after the closure of the exhibition.
The monument we see today is an exact replica of the original one. It was built in 1960 on the occasion of the 500th anniversary of Henry the Navigator's death. Henry the Navigator was a driving force behind the overseas exploration, and he financed many of the expeditions.
The Monument
The fifty meter (171 ft.) tall monument, shaped like a ship's prow, stands at the marina in Belém, the starting point for many of Portugal's explorers. This is where in 1497 Vasco da Gama embarked on his voyage to India and in 1493 a storm forced Christopher Columbus to anchor here on his way back to Spain after his discovery of the Americas.
The monument shows more than thirty statues of people who played an important role in the discoveries. Leading the way is Henry the Navigator, who is shown standing on the bow holding a model of a caravel. Behind him are king Afonso V – who supported the exploration and colonization of Africa – and the explorers Vasco da Gama (who found a direct route to India), Pedro Álvares Cabral (discoverer of Brazil) and Ferdinand Magellan (the first explorer to circumnavigate the world). They are followed by navigators, writers, missionaries, a mathematician, a cartographer and other figures from the era of the discoveries.
Wind Rose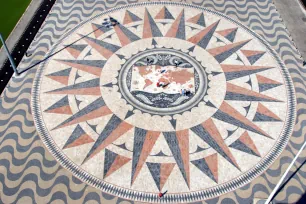 At the foot of the Monument to the Discoveries is a giant marble wind rose embedded in the pavement. A map of the world at the center of the wind rose charts the Portuguese explorations. The map shows the most important dates in the history of the discoveries, and ships mark the locations where Portuguese explorers first set foot on land.
Rooftop
Visitors can enter the monument, which contains a museum, exhibition halls and other rooms spread over seven floors. An elevator leads to the rooftop, which offers great panoramas over Belém and the Tagus river.