The Eschenheimer Turm – a forty-seven-meter (154 ft) tall Gothic tower – is one of the few remaining towers of the medieval fortifications that once encircled the whole city of Frankfurt.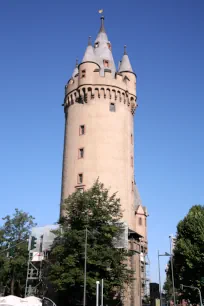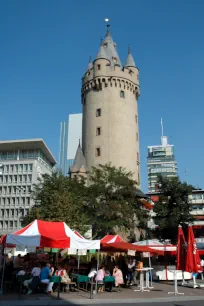 Construction
In 1400, the carpenter Klaus Mengos built the rectangular base of the tower, replacing a smaller gated tower built in 1346. In 1426 master builder Madern Gerthener, architect of the Kaiserdom, took over and completed the circular tower in 1428.
Frankfurt's Medieval Towers
The tower was once just one of about sixty towers encircling the city. Most were demolished between 1806 and 1812 when the old city walls were torn down.
The Eschenheimer turm was only saved from demolition thanks to the intervention of French ambassador Count d'Hédouville. Today, the tower is one of Frankfurt's most famous landmarks.
Traffic
Originally the tower was used as a gate (Eschenheimer Tor), but today the heavy traffic flows around the tower.
Since 1992 you can again reach the Eschenheimer Turm walking from the pedestrianized Schillerstrasse; before you could only reach it via the subway station. That same year, a café opened at the base of the Eschenheimer Tower.