The Franfurter Börse is one of the largest stock exchanges in the world. Its trading floor is housed in a late nineteenth-century Neo-Renaissance structure in the heart of the city. Statues of a bear and bull in front of the building symbolize the fluctuating market.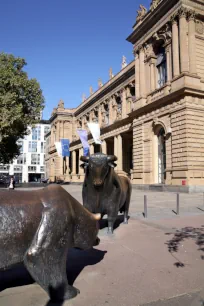 Early beginnings
In August 1585 the city of Antwerp, at the time one of the world's largest economic centers, falls into the hands of the Spanish. Soon, Frankfurt was buoyed by an influx of protestant traders and merchants fleeing from the intolerant catholic Spanish regime, and the city's economy started to boom.
It was the ideal breeding ground for the creation of a currency exchange market, which was set up that same year. The market rapidly developed into one of the world's largest stock exchanges.
Neue Börse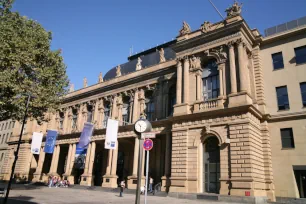 In 1879 the stock exchange moved into its current domed building at the Börsenplatz. It was known as the Neue Börse (new Stock Exchange) as it replaced an older building – the Alte Börse – which had become too small for the expanding stock exchange.
The new sandstone structure was built in a Neo-Renaissance style after a design by the German architects Rudolf Heinrich Burnitz and Oskar Sommer. The colonnaded front facade is decorated with statues of putti and ancient gods and goddesses.
The Stock Exchange
Today, Frankfurt's stock exchange is one of the largest in the world. However, only the floor trading is left after Deutsche Börse AG, operator of the Frankfurt stock exchange, moved its offices to Eschborn, a suburb of Frankfurt. A viewing gallery allows visitors to watch the activity on the trading floor.
Bull and Bear Statues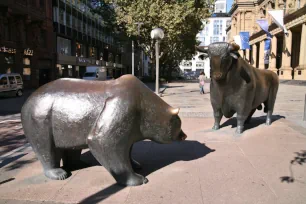 The two bronze statues at the Börsenplatz, the square in front of the stock exchange building, are known as the 'Bulle und Bär' (bull and bear). They symbolize the ups and downs of the stock market.
The statues were designed by Reinhard Dachlauer and installed here in 1988. The bull represents the rising bull market (it lifts the market by the horns) and the bear represents the falling bear market (it crushes the market).