Orsanmichele is a church situated in the center of Florence, close to the Piazza della Signoria. It was originally built in the fourteenth century as a grain market. Today the lower floor is used as a church while the upper floors house a small museum.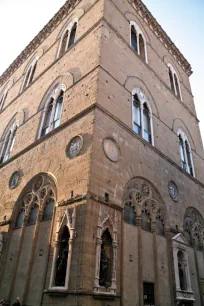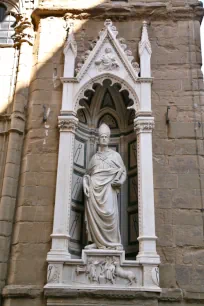 A Grain Market…
Orsanmichele was built in 1337 as a grain market. It replaced an earlier grain market which was destroyed by fire in 1304. The name is derived from 'orto de San Michele', referring to the vegetable garden of the San Michele oratory on which the grain market was built.
…Becomes a Church
Shortly after the new building was completed, miraculous appearances of the Madonna were reported. And even more miraculously, a painting appeared on one of the pillars in the grain market. A tabernacle, completed in 1359, was built to protect it. The so-called miracles started to attract pilgrims, so eventually, in 1380, it was decided to move the market elsewhere and transform the marketplace into a church. The open arcades on the upper stories were unfortunately bricked up, and the lower floor was converted into a church.
Exterior
Already in 1339, shortly after the reports of miraculous appearances, the city council launched an original idea to embellish the building. A number of niches were created, and each of the largest Florentine guilds were asked to donate a statue of their patron saint. Due to outbreaks of the plague, it would last until the fifteenth century before all statues were finished. The ones now visible in the niches are replicas, the original statues can be seen in the museum on the upper floors. The outer walls are also decorated with a number of glazed medallions, each representing one of the Florentine guilds.
Interior
Due to its original use as a grain market, the church has an unusual layout. Instead of one central nave, there are two naves divided by a central gallery. The most impressive artifact in the church is the tabernacle, created by Andrea Orcagna between 1338 and 1359. It is decorated with marble, reliefs and colored glass.
Museum
Orsanmichele also houses a small museum on the upper floors. Its collection consists mostly of sculptures from the church, including the original statues from the niches. From the top floor, you have a great view over Florence's historic center.