The San Marco Church and Convent were built in the fifteenth century for the Dominican order. Today the convent is home to a museum, the Museo di San Marco, where visitors can admire the frescoes of Fra Angelico.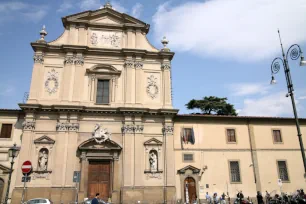 In 1436 Cosimo the Elder, the founder of the Medici dynasty, invited the Dominicans of Fiesole to move to Florence. He donated a site of a former Benedictine convent, which had fallen into ruin after Pope Eugene IV forced the friars to abandon the site in 1418. In 1437 Cosimo the Elder commissioned architect Michelozzo with the reconstruction of the convent. Michelozzo created a straightforward complex with little ornamentation, arranged around a couple of rectangular cloisters. The reconstruction was completed in 1443.
San Marco Church
The Church of the San Marco Convent was completed around the same time. Here Michelozzo reused much of the existing structure, though some parts, such as the apse, were completely rebuilt. The neoclassical front facade, facing Piazza San Marco, is of a much more recent date; it was built in the late eighteenth century by Giovanni Battista Paladini. The bell tower, completed in 1512, was designed by the Florentine architect and sculptor Baccio d'Agnolo.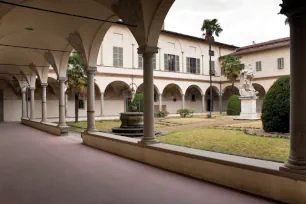 Noteworthy sights in the church include several 14th century paintings and the richly decorated altars.
Museo di San Marco
Of more interest is the convent proper, which since 1869 has been home to a museum where you can see a series of religious paintings and frescoes that were created in the fifteenth century by Fra Angelico, a Benedictine friar who lived here during much of his life. One of the highlights is «The Last Judgment», an altarpiece in the hospitium – a shelter for pilgrims – which shows the chosen ones on one side praying at the heavenly city while the damned on the other side are being tortured in hell. Other paintings can be found throughout the complex, including «Crucifixion» in the chapter house and «Annunciation» in the dormitorio, the sleeping quarters.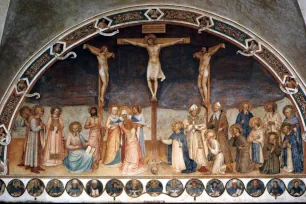 There's also artwork from other artists, such as «The Last Supper» by Domenico Ghirlandaio in the refectory.
The large, spacious wing just north of the dormitorio is the bibliotheca, designed in 1441 by Michelozzo for Cosimo the Elder. This was the first public library in Europe and contained manuscripts donated by Cosimo himself.
Girolamo Savonarola
Cells in the west corner of the San Marco convent contain the relics of Girolamo Savonarola, a fanatic religious who gained power after Piero de' Medici was ousted from Florence in 1494. Savonarola was convinced that only god could rule and forbid anything that could make life on earth pleasant, including music, carnival and even mirrors. People were quickly fed up with him, and his opponents had him executed in 1498.