The Giardino Bardini is a four hectare large garden situated between the Piazzale Michelangelo and the Giardino di Boboli in Oltrarno, across the river from the historic center of Florence.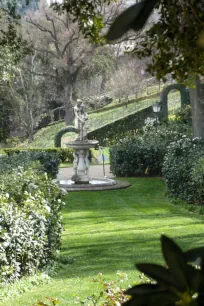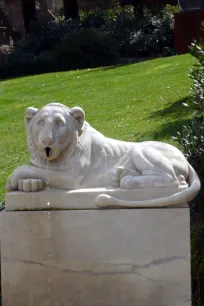 The Bardini Garden may not be as famous as the nearby Boboli Garden, but it is quieter, and has a more romantic feel and varied layout.
History
The history of the garden goes back to the late 16th century, when the Mozzi family acquired an estate just outside the city walls on the left bank of the Arno river. It consisted of a palazzo with a walled garden and a steep, terraced slope. In the 18th century Giulio Mozzi created a Baroque staircase on the slope adorned with sandstone statues. He also added a long fountain wall, decorated with mosaics.
In 1839 the garden expanded with the addition of the estate of the villa Manadora (now the Villa Bardini), which contained woodland with an English-Chinese garden, a waterfall, a pond and a fountain.
Financial struggles forced the Mozzi's to hand over the garden to Carolath von Beuthen, who added Victorian elements. In 1913 the domain was acquired by Stefano Bardini, an antique dealer. He made some drastic changes and built a road to the villa, thereby demolishing the medieval walled garden.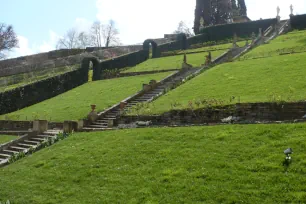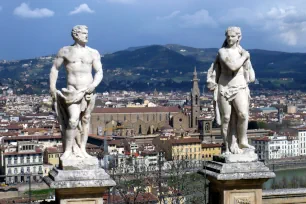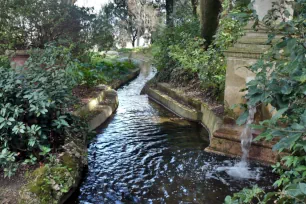 After the death of Bardini's son in 1965, the garden was neglected, and it would take until 2000 before the Fondazione Parchi Monumentali Bardini Peyron – created to restore the estates of Bardini and Peyron – acquired the Bardini garden and started a project to bring the garden back to its former splendor. Finally, five years later, the Bardini garden opened to the public.
The Garden
After entering the garden via Via dei Bardi one passes a small rose garden. A wooded area ahead is the original English garden, once part of the Manadora estate. A winding path leads through the gardens uphill and brings you to the Villa Bardini, now home to a restaurant, cafeteria and bookshop. The path continues west to the top of the slope, where you can take a break at the Kaffeehaus.
From here you have a magnificent view over the city of Florence. On its way to the top, the path passes along the central Baroque staircase, the centerpiece of the garden. On either side of the long staircase are terraced lawns, and its top is decorated with elegant statues.
There are many other picturesque areas in the Bardini garden which can be discovered by aimlessly wandering around the garden; you'll come across a grotto, several fountains, a small canal, a tempietto and an agricultural park with orchards. Depending on the time of the year the garden can be very colorful thanks to the many flowering plants, including roses, irises, hydrangeas and a beautiful wisteria pergola.