Cologne's city hall is a magnificent complex in the heart of the old town. Its Gothic tower, once the tallest building in the city, is decorated with more than one hundred sculptures.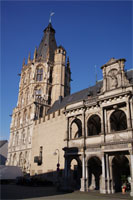 Rathaus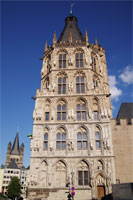 Ratsturm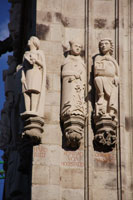 Statues on the
Ratsturm
The nucleus of Cologne's city hall complex was built in the fourteenth century and replaced a smaller structure from the twelfth century. Over the years, the city hall expanded into a large structure with a mixture of different architectural styles. After it was severely damaged in the Second World War, the historic Rathaus was only partially reconstructed; the rest of the complex was rebuilt in a modern style.
Ratsturm
A constitution in 1396 tilted the balance of power in Cologne from the patricians to the Gaffeln, a local variant of the guilds. The 61 meter (200 ft) high Ratsturm (city hall tower) symbolized the increased importance of the 22 guilds of Cologne, who now selected the majority of the councilmen. Construction of the tower started in 1407 and when it was completed, it was the tallest building in the city, even eclipsing the Gross St. Martin. The late Gothic tower was decorated with sculptures depicting important figures in the history of the city.
After the tower was completely destroyed in the Second World War, it was rebuilt between 1970 and 1975. Twenty years later, the tower was embellished once again with statues, only to have them removed in 2006 due to severe deterioration. The current statues, 124 in total, were installed in 2008 and depict Christ, his apostles, saints and a host of figures that made an impact on the history of Cologne over a span of two thousand years, from historic figures such as the Roman general Agrippa, emperor Augustus and Charlemange to recent personalities including politician Konrad Adenauer and musician Jacques Offenbach.
Rathauslaube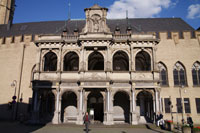 Rathauslaube
The splendid Renaissance loggia, known as the Rathauslaube, was added between 1569 and 1573. Decisions that were taken by the city council were announced from the loggia's upper floor.
The Rathauslaube is beautifully adorned with medallions, reliefs and sculptures. A niche at the top holds a statue of Justitia, the Roman goddess of justice. A frieze between the two arcades depicts the legend of Mayor Grin.
According to this legend, two priests lured the mayor to an inner courtyard, where a hungry lion was held captive. The mayor was able to slay the lion, and the priests were hanged. The story symbolizes the power struggle between civil and clerical rule. Right below the bas-relief are medallions depicting Roman emperors.
Hansasaal
Steps behind the loggia lead to the Hansasaal, the oldest hall in the Rathaus, originally built in 1360 and reconstructed after it was destroyed by fire during World War II. The Gothic hall is decorated with sculptures of historic figures. The hall's name stems from the Hanseatic League, a powerful organization of merchants who often met in this large hall.