Built in the fifteenth century as a festival hall, this Gothic structure is one of Cologne's most historic secular buildings. It is currently in use as a multifunctional congress hall, concert hall and events center.
Construction
The Gürzenich was built on a plot of land that was owned by the aristocratic Gürzenich family, who in the twelfth century erected a mansion here, called 'Gürzenicher Hof'.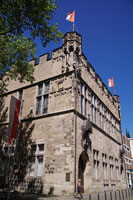 Gürzenich
In 1438, after the owners at the time were unable to pay off their debts, the property – then known as 'Louvenberg' – fell into the hands of the city council, who subsequently acquired the neighboring houses during the following years.
In 1441, the city of Cologne decided to tear down the existing buildings and replace them with a new, large structure, to be named 'Gürzenich'. Construction eventually started in 1441 and would last until 1447.
Design
The building was designed as a large rectangular structure in a Gothic style with crenelated stone walls. At each corner is a small turret, decorated with Gothic motifs. Tall, narrow cross windows allow light into the halls on each of the two floors.
The main facade on the east side has two entrances with pointed arches. Above the entrances, below coverings with fine bar tracery designs usually found in church windows, are statues of two legendary figures in the history of Cologne: Marcus Vipsanius Agrippa and Marsilius. Marcus Agrippa was a Roman general who founded the city in 38 BC. Marsilius led the defense of the city during a siege in 69 AD of troops of Vitellius, a rebelling Roman general.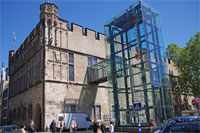 The modern elevator
The large banqueting hall on the upper floor, 23 meters wide and 53 meters (75 x 174 ft.) long, was used for all kinds of festivities and even welcomed emperors. Known as the Großen Saal (Great Hall), it was intricately decorated with Gothic tracery motifs and colorfully painted ceilings. The ground floor was used as a warehouse and salesroom and for some time – from the seventeenth to nineteenth century – both floors were used to store and sell wares.
Modernization
In the early nineteenth century, the reputation of the Gürzenich as an event hall started to grow again, to such an extent that it had to be expanded. A new neo-Gothic annex with a 200 square meter large hall was built in 1867 by the German architect Julius Carl Raschdorff.
Bombardments during the Second World War destroyed much of the structure. It was rebuilt from 1952 until 1955; unfortunately, the beautiful interior decorations were replaced by a sober modernist style. In 1997, during a renovation project which aimed to bring Gürzenich in line with modern requirements, a modern glass elevator was added to the exterior.