Many of the monumental gates that were part of the former medieval city wall around Cologne have been preserved. The most impressive of these gates is the Hahnentorburg, built in the mid thirteenth century.
City Wall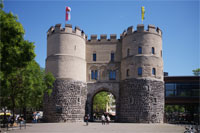 Hahnentorburg
Shortly after the Romans founded Cologne in 50 AD, they built a wall around the city. The wall was first expanded in the tenth century, and again in 1106, but due to the continuing growth of the city a new, 7 meters (23 ft) high wall was built in the twelfth and thirteenth centuries.
The wall surrounded the city in a semicircle and bordered the Rhine river at its most northern and southern end. The impressive wall, at the time the largest city wall in Germany, had twelve monumental gates.
In the nineteenth century, the population of Cologne tripled, and the medieval wall had become a major hindrance for the expansion of the city. In 1881 the wall was demolished to make way for a new ring boulevard. Many of the towers and gates were preserved and can still be seen today.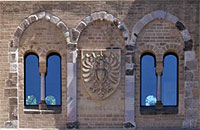 Coat of Arms
The Royal Gate
The most important of the twelve gates that gave entrance to Cologne was the west gate, known as the Hahnentor. After their coronation in Aachen, German kings arrived in Cologne through this gate to revere the shrine of the Three Magi in the Cologne cathedral.
The gate was built between 1235 and 1240 and was probably named after a citizen named Hageno, who owned the nearby land. This eventually morphed into Hahnentor (rooster gate). The word burg, loosely translated to castle or bastion, refers to the defensive nature of the gate.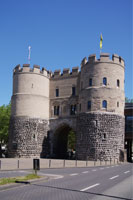 The Hahnentorburg has two semicircular, crenelated towers. The city's coat of arms is depicted above the entrance.
The tower was restored in 1890 by the city architect Josef Stubben; a memorial plaque commemorates the architect's construction of Neustadt (new city) between 1881 and 1898 outside the former city walls. The tower was severely damaged during the Second World War, but was later reconstructed.
The gate has had many functions throughout its lifespan. It has been used as a prison, museum and exposition hall. Since 1988 it has been home to the "Ehrengarde der Stadt Köln 1902 e.V.", a carnival society.