Groß St. Martin is one of twelve Romanesque churches in Cologne. Thanks to its massive tower, the church is also one of the most imposing, and until the completion of the cathedral, it was one of the most important symbols of Cologne.
Groß St. Martin
Even today, the tower of Groß St. Martin rises over the houses in the old district, and its silhouette is a distinctive feature of Cologne's skyline.
Construction
A first church was built here in the tenth century, founded by the archbishop of Cologne, Bruno the Great. The church was built at the Rheinvorstadt, a small island in the Rhine that was shortly after joined to the mainland when a tributary of the Rhine was filled in.
The current building, dedicated to Saint Martinus, was constructed between 1150 and 1250 for the Benedictine order, after the earlier church was destroyed by a fire that ravaged the whole neighborhood. In the fifteenth century, the original spire was replaced by a taller version.
Like most of Cologne, the church was heavily damaged during World War II. It was rebuilt shortly after the war, but it would last until 1985 before its reconstruction was fully completed.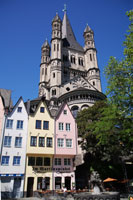 The tower dominates
the nearby Fischmarkt
The Church
The exterior of the church is dominated by its massive tower, with four turrets at each corner. The design is Romanesque, with narrow windows and heavy masonry. Its hulking mass is lessened somewhat thanks to arcades around the apses and architectural details, especially noticeable on the small turrets.
The ground plan of the church is shaped like a clover leaf, resulting in three apses. The interior is very sparse, almost all medieval decoration was destroyed during the war. The central nave is nonetheless impressive, if only due to its sheer size.
Roman Ruins
During the first century AD, this was the site of a Roman palaestra, a complex used for sports training. The following century, the Romans built a large warehouse here. Remains of both structures were found under the crypt of the church.