The Neo-Gothic building at the Glockengasse is the home of the famous Eau de Cologne no. 4711. The number 4711 refers to a house number assigned during the French occupation at the end of the eighteenth century.
The Number
During the Middle Ages, it was common for houses to have a name instead of a number. In 1794, French troops occupied the city of Cologne and ordered all houses in the city to be assigned a unique number.
The house at the Glockengasse that would later become the headquarters of the now famous perfume company was assigned number 4711. Later the houses were numbered in the format of street and number that we know today, and the official address of the 4711 House is now Glockengasse no. 4.
Eau de Cologne
The history of the 4711 perfume goes back to 1792, when, according to legend, Wilhelm Mühlens was given the recipe for a fragrence from a monk as a wedding gift. Mühlens tried to sell his perfume by the name of Farina, a popular brand created by the Italian perfume maker Giovanni Maria Farina, who marketed his perfume as 'Eau de Cologne' (French for Water from Cologne). Mühlens was ordered by court to stop using the name 'Farina', but his son and grandson continued using the name regardless until a court order in 1881 made Ferdinand Mühlens, grandson of Wilhelm, decide to rename the perfume's brand.
Rebranding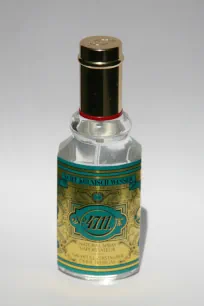 During the mid-nineteenth century, the perfume factory of Mühlens was located in a house in Glockengasse that had been given the number 4711, so Ferdinand decided to use that number as the name of the company's perfume.
The decision to use that number was peculiar, given that the company had long moved to another house in the Glockengasse. Also odd is that the numbering system had changed again in 1811 and the house no. 4711 was now officially no. 12 at Glockengasse.
Mühlens's company soon started to thrive, and the number 4711 became world-famous; the perfume was even used by royals.
The House
In 1854 Peter Joseph Mühlens, son of founder Wilhelm, moved the perfume factory that his father had founded to a new Neo-Gothic house at nos. 26-28. The house was completely destroyed during World War II, but in 1963 it was reconstructed at a different location in the same street.
The house has a bright white facade defined by its cross windows, a high arcade at the base and decorative turrets at the top. Between the turrets is a Glockenspiel – a carillon that plays on the hour; at the same time, wooden figures appear one by one. The Glockenspiel (literally 'bell play') is a reference to the street's name, Glockengasse (bell alley).
The ground floor of the house is home to a store selling the famous perfume. On the first floor is a small museum which documents the history of the Eau de Cologne 4711.