The Overstolzenhaus is a magnificent example of secular Romanesque architecture. Built in the early thirteenth century by a wealthy family of merchants, it is one of the best preserved Romanesque houses in Germany.
Construction
The Overstolzenhaus was built for Blithildis, daughter of Gottschalk Overstolz, the patriarch of a merchant family who had become one of the most powerful and wealthy citizens of cologne thanks to a dowry and a successful cloth trading business.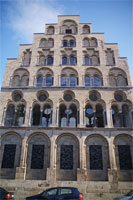 Overstolzenhaus
The exact date of the construction is unknown, but the house was possibly built as early as 1225. The house was partially used as a commercial building, so it was located close to Cologne's former port at the Rhine river. The first two floors of the house were residential, while the four upper floors were used to store wares.
Survival
In 1838, former city architect Johann Peter Weyer saved the Overstolzenhaus from demolition by convincing the city council to reject the plans of a developer who intended to replace the house with new apartments. The house was instead restored and recognized as an important historical landmark.
Many of Cologne's medieval buildings were destroyed during the Second World War. The Overstolzenhaus was also heavily damaged, with only the first two floors partly surviving. Unlike many other historic houses, the Overstolzenhaus was completely restored in 1955.
The Building
The Overstolzenhaus has a magnificent facade with an imposing corbie gable. Its design is clearly Romanesque, defined by rather heavy masonry and round arches but it has hints of early Gothic architecture, with its large windows and use of plate tracery. The windows on the ground floor are a result of a nineteenth century renovation and are not original.
Little of the original interior has been preserved, but the banquet hall on the first floor is still decorated with a thirteenth-century wall painting depicting a medieval tournament.