The Flora und Botanischer Garten is a popular park in Cologne that combines a flower garden with a botanical garden. It is the most beautiful park in Cologne, and it attracts about one million visitors each year.
Creation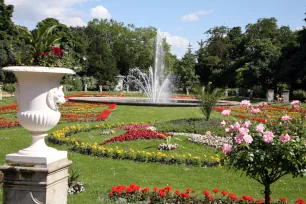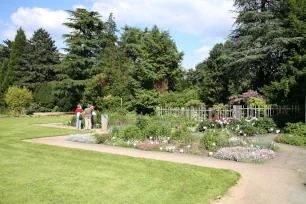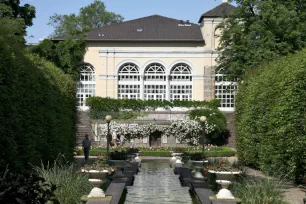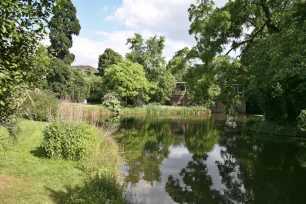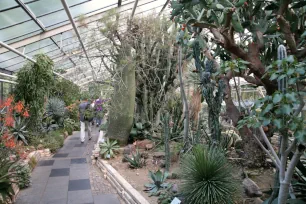 The south section of the garden, known as the Flora, was created first, in 1864. It was laid out by Peter Joseph Lenné, a renowned Prussian gardener who also designed the gardens of the Sanssouci Park in Potsdam and the Tiergarten in Berlin. The gardens were arranged symmetrically in a variation of styles, from very formal to landscaped.
In 1914 a new botanical garden was created near the Flora garden. This garden replaced a scientific botanical garden in the south of Cologne that had to make way for increasing traffic. Ironically, the latter was created to replace an older, historic botanic garden in the city center that was demolished in 1857 to make way for new construction.
Both gardens were combined in 1920 to create a park of about 11.5 hectare (28 acres).
The Buildings
The centerpiece of the Flora is the eponymous building, an orangery erected in 1864 at the center of the garden. The cast-iron building with a magnificent glass vaulting was modeled after the Crystal Palace in London and the Jardin d'Hiver in Paris. Throughout the nineteenth century, the building was used for floral exhibitions.
The Flora building was severely damaged during the Second World War and due to financial constraints it was only partly restored, without its signature glass roof. In 2011 however, the city of Cologne decided to reconstruct the Flora in its original form, and it reopened in June 2014 as an event and banqueting hall.
In 1906 a smaller building was constructed along the banks of the garden's pond. It was designed by the Art Nouveau architect Joseph M. Olbrich and known as the Frauen-Rosenhof. Today the building is used as an education center for ecology.
The Gardens
The Flora garden is laid out around the Flora building. Highlights include a cascade and a formally laid out flower garden with a central fountain.
There are also many landscaped areas, including a heather garden, a Mediterranean garden, a fern garden and a pond. Exotic plants such as orchids, cocoa plants and succulents are housed in a large glasshouse.
The Botanical garden, which occupies the northern part of the park, contains about 10,000 different plant species. In this area, the plants are systematically categorized into different gardens. The alpine garden alone contains some 2,000 species of mountain plants.