The Alter Markt is a historic marketplace near Cologne's city hall. The square is popular for its many cafés with outdoor terraces. The city's popular carnival celebrations start here at this square.
History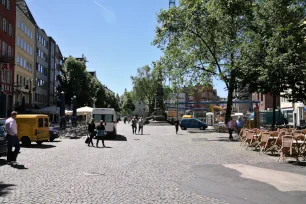 During the Roman era, a port was located here, at a tributary of the Rhine River. Over time the port became silted up and in the tenth century the tributary was completely filled in, after which the area became Cologne's central market square.
Initially the Alter Markt was connected with the Heumarkt square, and until the thirteenth century it formed one long marketplace. During the late Middle Ages the square was also the site of public executions and occasionally jousting tournaments were held here.
Renaissance Houses
Even though few squares in Cologne feel as historic as the Alter Markt, there are only two authentic historic houses, the 'zur Bretzel' and the 'zu Dorn', both on the east side of the square. The houses were built in the sixteenth century in a Renaissance style. The west side is dominated by the beautiful tower of the city hall.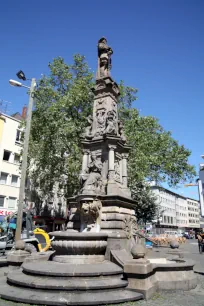 Jan von Werth Fountain
At the middle of the Alter Markt stands the Jan-von-Werth-Brunnen, a fountain erected here in 1884 in honor of Jan von Werth, a successful general during the Thirty Years' War. The fountain, created by the German sculptor Wilhelm Albermann, shows the general on top of a tall pedestal. At the foot of the pedestal are allegorical statues of the Kölner Bauer and Kölner Jungfrau, representing valor and purity.
Reliefs depict the story of Jan von Werth and Griet, whom Jan had fallen in love with. Griet rejected Jan – a simple farm boy – since he wasn't wealthy. Dejected, Jan joined the army, where he was able to reach the rank of general. Years later he married to a noble lady. When Jan triumphantly arrived back in Cologne at the head of his cavalry he saw Griet, who was full of regret, still unmarried since no rich man had proposed to her. Old and wrinkled, she muttered the words 'Oh, Jan, if only I had known'.
There's a moral in here!
Kallendresser
Less moralizing is the 'Kallendresser' (freely translated as 'gutter shitter'), a sculpture of a man with his pants down at the top of the façade of house no. 24. It was created in 1956 by the German sculptor Ewald Mataré. The bronze sculpture is a modern adaptation of a relief that before the war adorned neighboring house no. 40). The origin of the sculpture is unclear, and some claim that it is a political statement towards the city hall opposite the house.