Buckingham Fountain, officially known as the 'Clarence Buckingham Memorial Fountain' is one of Chicago's most popular landmarks. The fountain is located in Grant Park at the center of a formally laid out garden.
Kate Buckingham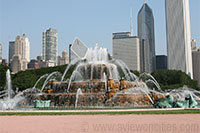 Buckingham Fountain
The fountain was commisioned in 1927 by Kate Buckingham to honor her late brother Clarence. She had frequently traveled to Europe, where she admired the huge public fountains and wanted to bring some of Europe's monumentality to Chicago. She also left an endowment to maintain the fountain.
Design
The design of the fountain is based on the 'Bassin de Latone' at the Versailles Palace near Paris and was built by Edward H. Bennett, who had also constructed the Michigan Avenue Bridge.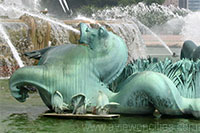 Seahorse
The fountain rises more than seven meters high (23ft) and consists of three layers of bassins surrounded by four pairs of bronze seahorses. Each sea horse symbolizes a state bordering Lake Michigan (Illinois, Indiana, Michigan and Wisconsin) while the fountain basin represents the lake itself. The statues were created by the French sculptor Marcel F. Loyau, who won the Prix National at the 1927 Paris Salon for it.
A Monumental Fountain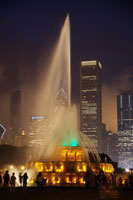 The fountain at night
One of the largest fountains in the world, the Buckingham Fountain measures 85m/280ft in diameter. It features 134 jets powered by 3 pumps.
The fountain's hourly twenty-minute water display starts with small sprays. While the basins are filled more and more jets are activated until it reaches its climax when the central jet pushes water up to a height of 46m/150ft. The animation is best seen at dusk – after 8 pm – when it is accompanied with music and beautifully animated with a now computerized choreography of color spotlights.