Charming Louisburg Square has long been one of Boston's most desirable locations.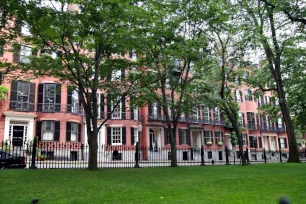 Situated in one of Boston's most sought after neighborhoods, Louisburg Square is one of the loveliest parts of Beacon Hill. The homes around Louisburg Square were built in the 1840s and were to serve as a model for townhouse development.
History of the Square
The area that is now Louisburg Square is said to have been the home of Rev. William Blaxton (sometimes known as Blackstone) in the early 1600s. Blaxton had come here after separating himself from a group of Puritans in Charlestown, seeking more peace and quiet. It is said that he purchased land from the Native Americans and encouraged others from his group, who had complained about the lack of water in Charlestown, to travel across the river and enjoy his "spring". There's no evidence of the spring today, so the origins of the story are uncertain. A plaque at one of the homes on the square, however, pays homage to Blaxton, who eventually moved to Rhode Island for yet more seclusion.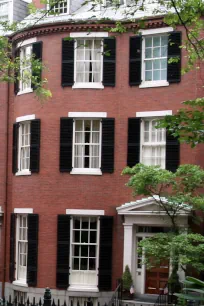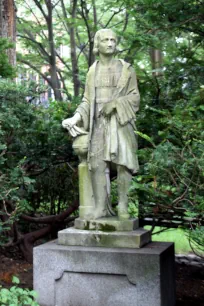 Famous Residents
Because Beacon Hill, and Louisburg Square in particular, has always been THE place to live in Boston, a number of recognizable names have made their home here. Charles Bulfinch, architect of the nearby State House lived here as well as John Singleton Copley, a famous American painter. Author Louisa May Alcott – of Little Women fame – made her home at no. 10 and died here as well. It is said that opera singer Jenny Lind married here in the 1850s. Author and critic William Dean Howells also lived on Louisburg Square. More recent residents include Jack Welch and former presidential hopeful, John Kerry.
The Square Today
The square is owned by the people who live in the houses around it and has always been well-tended and pristine. As a symbol of exclusivity, the small fenced park is the last private square in the city of Boston.
Inside the fenced park – a grassy area lined with trees – are two statues: one of Christopher Columbus and another of Aristides the Just, both donated by a Greek merchant who lived at the square in the 1850s.
Many of the grand colonial-style homes around the square have turned from single-family houses to condominiums and apartments that accommodate a host of renters of various ages, mostly up-and-coming young professionals.