Berlin's city hall, a large red brick building, is known as the Rotes Rathaus or Red Town Hall. The nineteenth-century building is situated on the southeast side of Alexanderplatz.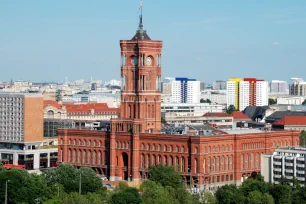 The red bricks of the building gave the town hall its name, even though the name could have just as well referred to the political ideology of the mayors who have resided here.
History
Construction
The current structure with its eye-catching tower is the fifth town hall built at this site, where the original town hall was erected in the thirteenth century. The large structure was built between 1861 and 1867 and replaced an earlier city hall that had become too small for the growing metropolis.
Post-war Reconstruction
The city hall was heavily damaged during the Second World War and ended up in Berlin's Russian Sector. After its reconstruction between 1951 and 1958 the Rotes Rathaus became the city hall of East Berlin. West Berlin's city council meanwhile was housed in the Rathaus Schöneberg.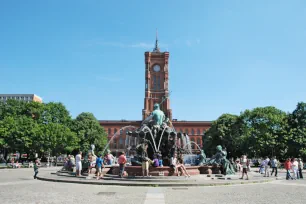 In 1991, after the end of the Cold War, the Rotes Rathaus once again became the official city hall for the reunified city of Berlin. A thorough renovation of the historic building, which started in 2005, was completed five years later.
The Building
The German architect Hermann Friedrich Waesemann was responsible for the city hall's North-Italian High Renaissance style design, a style that is quite unusual for Berlin. The design of its iconic tower was clearly inspired by the towers of the Gothic Laon Cathedral in France.
The long frieze on the facade was added between 1876 and 1879. Thirty-six terracotta panels depict scenes from the history of Berlin from the early days up to the Treaty of Versailles in 1871.
In front of the entrance stand two statues created by the East-German sculptor Fritz Cremer: Aufbauhelfer and Aufbauhelferin (Trümmerfrau). They depict people who cleared the rubble after the Second World War and rebuilt the city. Many of these 'rubble workers' were women, the so-called Trümmerfrau, since most of the male population was either dead or imprisoned in war camps.
Neptune Fountain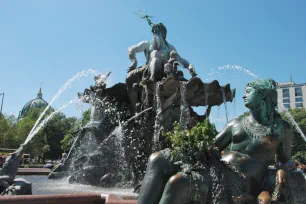 At the center of the esplanade in front of the Rotes Rathaus sits a large fountain known as the Neptunbrunnen (Neptune Fountain). The Neo-Baroque fountain, decorated with bronze statues, was created between 1886 and 1891 by Reinhold Begas.
The fountain was originally installed on the square in front of the former Stadtschloss (Berlin Castle). In 1969, it was moved to its current location in front of the city hall.
At the center of the fountain is a statue of Neptune, who overlooks a large basin where four female figures symbolize Prussia's most important rivers: the Rhine, the Elbe, the Oder and the Vistula (Weichsel).