Once the crown jewel of West Berlin's retail establishments, Europa Center now stands as a reminder of post-war West-Germany. There are several sights in and around the shopping center, including two modern clocks.
One Man's Dream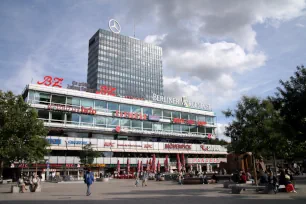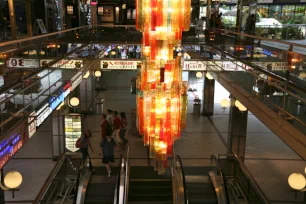 Often dubbed the largest and most daring enterprise in all of post-war Germany, the Europa Center was the dream of Karl Heinz Pepper. This loyal Berliner built his shopping center in 1963 and, at that time, it was one of the most modern "malls" in Europe. With room for one hundred stores as well as offices, restaurants, and pubs, Europa Center became a popular gathering place for locals and a novel new attraction for visitors.
Pepper's decision to build Europa Center came a day or two after the Berlin Wall was erected. For his project, he chose a section of the city that was described as "an ugly conglomerate of tents, stalls and barracks" in the center of the city.
Plans for the center were devised by professor Helmut Hentrich with artistic assistance offered by the architect of the then-new Kaiser-Wilhelm Memorial Church, professor Egon Eiermann. Pepper's dream opened on April 2, 1965. It stood 123.5 meters (405 feet) high, was fully air-conditioned, and boasted its own ice skating rink, a la New York's Rockefeller Center.
Europa Center Today
Though many newer and glitzier malls have sprung up in the city since Europa Center was built, locals still have a soft spot for this Berlin first. Still home to dozens of shops, restaurants, clubs, and cinemas, tons of tourists still stop here to do a little souvenir shopping and to grab a pint at the Irish pub, located in the basement.
Mercedes Star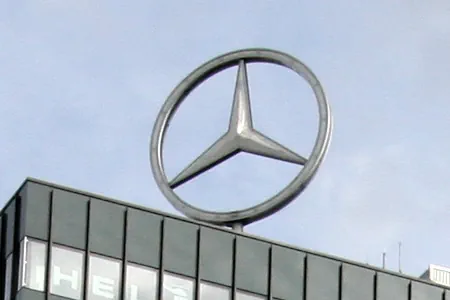 Europa Center's crowning glory was and remains the Mercedes star that sits atop the building. It measures ten meters (32 feet) in diameter and rotates once every minute. It can be clearly seen from many areas of Berlin.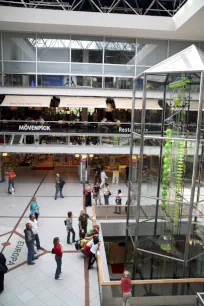 Clock of flowing time
The most intriguing sight inside Europa Center is probably the "Uhr der fließenden Zeit" (clock of flowing time). The thirteen-meter-tall clock was created in 1982 by the Frenchman Bernard Gitton. The clock is highly unconventional: instead of a digital or analog display, this clock shows the time by means of glass spheres, twelve large ones and thirty smaller ones. The spheres are filled with water, and each large, filled sphere represents an hour. Small spheres filled with water count for two minutes each. The clock is regulated by a pendulum.
Globe Fountain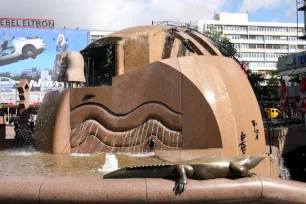 Right in front of Europa Center, on the pedestrianized Breitscheidplatz, sits the "Weltkugelbrunnen" or Globe Fountain, locally known as "Wasserklops" (water ball). The massive red granite fountain was built here between 1982 and 1894. The modern fountain was designed by Joachim Schmettaus. Ever since its construction, it has been a popular meeting point in West Berlin.
More sights
There's another clock near Europa Center, at Budapester Straße: the so-called Mengenlehrer Uhr (Set theory clock), which displays the current time using colored fields.
Another lights display can be seen at the Tauentzienstraße, where a 35-meter-tall glass light-obelisk stands. The obelisk was created in 1987 as a symbol for freedom. At night, it is a beam of light with a constantly changing pattern.