The Kaiser-Wilhelm-Gedächtniskirche or Emperor William Memorial Church is one of Berlin's most famous landmarks. The damaged church tower is a symbol of Berlin's resolve to rebuild the city after the war, and a constant reminder of the destruction of war.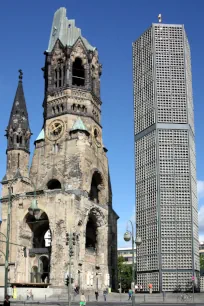 Construction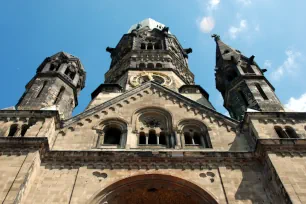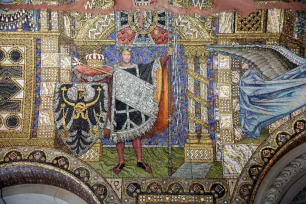 Built between 1891 and 1895 by Emperor William II as a mark of honor for his grandfather, Emperor William I, the Kaiser-Wilhelm-Gedächtniskirche was a symbol of Prussian unity.
The Neo-Romanesque structure was designed by the German architect Franz Schwechten. It was the tallest building in Berlin, with a spire that reached a height of 113 meters (371 ft). The building was unusually ornate for a Protestant church. Inside, it was decorated with stained-glass windows and a large mosaic depicting the history of Prussia up until Emperor William himself.
The Hollow Tooth
On the night of November 18, 1943, the church burned down after it was hit by British bombers. After the war, only the partially destroyed west tower of the church was still standing.
A debate arose about the future of the structure, which Berliners had dubbed the 'hohle Zahn' (hollow tooth). In the 1950s, plans from the local government to demolish the tower met such fierce opposition that the tower was left in its ruined state as a reminder of the devastation of war.
The remaining tower of the destroyed church is now home to the Gedenkhalle (Memorial Hall). It documents the history of the church and contains several of the original objects in the church, as well as photos from before and after the bombing. Some of the mosaic decorations and reliefs that survived the war have been restored and can be admired here as well.
A New Church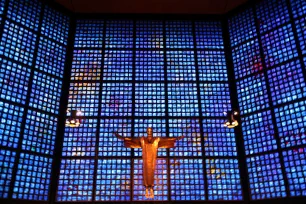 In 1961 a new, octagonal church designed by Egon Eiermann was built alongside the existing tower. The church is a reinforced concrete structure with blue-colored glass bricks. The freestanding hexagonal bell tower next to the church was constructed on the site of the former main nave of the destroyed church. A third and small rectangular building is also part of the new complex.
Inside, the glass brick walls result in a unique atmosphere, while a giant statue of Jesus above the altar attracts all the attention. Opposite the altar is the Stalingrad Madonna, a charcoal sketch made by Kurt Reuber, a German doctor who died in a Russian prisoner of war camp. The drawing was made in Russia in the winter of 1942, during the Battle of Stalingrad.