Once Berlin's symbol of wealth and prosperity, Kurfürstendamm is still a bustling boulevard where Berliners enjoy hanging out.
Its Origins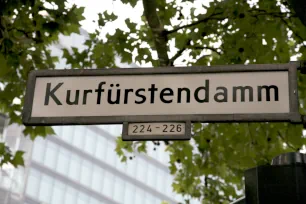 Kurfurstendamm, with its origins dating back to the 1500s, was originally constructed as a pathway for the Elector Prince Joachim II, in order to allow him to travel easily from his palace – located on the Unter den Linden – to his hunting lodge in the forest of Grünewald.
The road remained as such for three centuries until 1876 when Germany had gained self-confidence after winning the French-German war (1870-1871). Kurfürstendamm had to become Berlin's version of the Champs-Élysées. Otto von Bismarck suggested that the Kurfürstendamm be formed into a noble boulevard with large houses and plenty of trees. The boulevard was also widened to about 53 meters (174 feet) and the construction of some of the city's most prestigious addresses began.
Few of these ornate villas remain – for a few different reasons – one being that they were replaced in the early 1900s by high rise apartments of great proportions. Some boasted as many as ten rooms and covered an area of up to 500 square meters (about 5,400 square feet).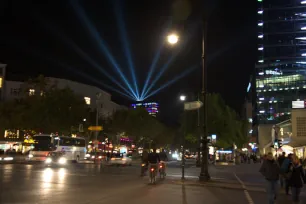 Stores and cafés opened and Kurfürstendamm soon became the place to be seen, especially if you were "the artistic type". The street became known as Ku'damm, and if you were spotted there, you were definitely one of Berlin's most well-known citizens.
The Buildings
In its heyday, the facades of the buildings that lined the 2.2-mile-long (3.5 km) boulevard were a mixture of a number of different designs, but most boasted ornate facades that attested to the wealth of those who lived inside. One would see columns, gables, towers, huge bay windows, and other ornamentation on the exterior. The inside of these buildings featured high ceilings and grand entranceways.
Unfortunately, more than half of the magnificent structures along Kurfürstendamm were completely destroyed during World War II, and those that weren't suffered significant damage. Just a few remain. Most history buffs will direct interested parties to the structure known as Iduna-Haus, built in 1905 and located at No. 59/69, for a look at the street's original architecture. Though reconstruction was attempted after the war, the street was never really restored to its original glory.
Shopping
Today, Kurfürstendamm is better known for its shopping opportunities than its architecture. Many dub it "the 5th Avenue of Berlin". Unfortunately, many of the exclusive shops have disappeared; nowadays, you'll also find chain stores, souvenir stores and other lower-priced options located along the boulevard. And many businesses now occupy the ornate high-rise apartments that were once home to Berlin's rich and famous.