Situated near an island lying between two arms of the Spree River (known as The Werder), Friedrichswerdersche Kirche occupies the location of the former Werderscher Market.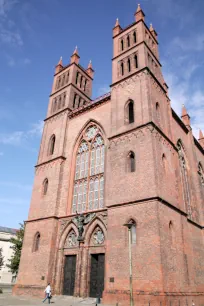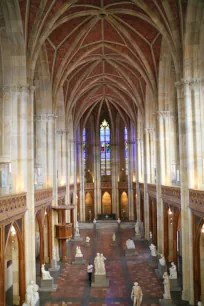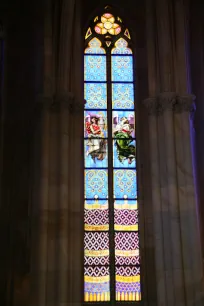 The Church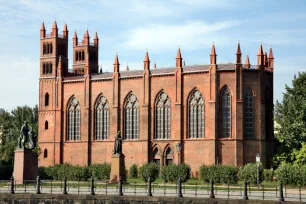 The first Neo-Gothic church in Berlin, Friedrichswerdersche Kirche was designed by famed local architect Karl Friedrich Schinkel and built between 1824 and 1830. The church was named for Friedrich Wilhelm – The Great Elector – who served as Duke of Prussia from 1640 until his death in 1688. Schinkel's clean, orderly style is found in many other Berlin structures designed by this architect, including several buildings on Museum Island.
The exterior of the brick church boasts a simple pillar structure with a double-towered facade. The interior is spacious and rather basic as well.
Works of Art
A fine collection of early nineteenth-century sculptures from the Alte Nationalgalerie are on exhibit in the nave area of the church, including classical and romantic works by Johann Gottfried Schadow, Christian Friedrich Tieck, Emil Wolff, Theodor Kalide, Ridolfo Schadow, and Christian Daniel Rauch.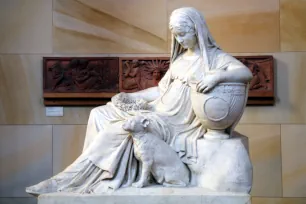 The centerpiece of the exhibit is the original plaster model of "Two Princesses" by Johann Gottfried Schadow. (The bronze sculpture that came from the cast is in the Old National Gallery.) Schadow's piece is regarded as a fine example of European classicism, and the sculptor was acclaimed for his return to the Greek style of sculpture.
In the gallery of the church, you'll also find an exhibit sponsored by the National Gallery that profiles the life and works of the church's architect, K.F. Schinkel, including a wealth of information about the church itself. Known as the Schinkel Museum, this display was installed in 1987 after extensive renovations were completed at the Friedrichswerdersche Kirche.
Structural damage to the church forced its closure in 2012 and the sculptures had to removed. The damage was repaired and in 2019 the magnificent exhibit reopened to the public.