The Neues Museum (New Museum) is one of a cluster of museums on Berlin's Museum Island. It was built in 1859 to relieve the Royal Museum, which had become too small to accommodate the growing collection.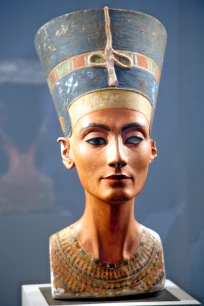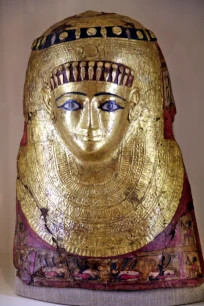 Construction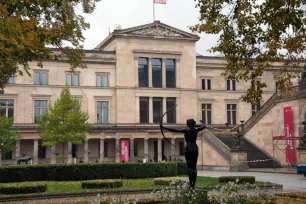 In 1841 King Frederick William IV of Prussia ordered the construction of a new museum on the island in the river Spree near the Prussian palace.
Friedrich August Stüler, the appointed architect, designed a monumental neoclassical building, which was erected behind the Royal Museum (now the Altes Museum). The new museum was envisaged as an extension to the Royal Museum, with a walkway connecting the two buildings. Nine years later, a first section of the museum opened to the public, but it would take until 1859 before the construction of the Neues Museum was fully completed.
The museum housed mainly pre-historic art, Egyptian art and a collection of plaster casts, which were very popular at the time as it allowed people to see monuments from other countries at a time when few people had the means to travel.
In 1939 a second walkway was created to connect the Neues Museum with yet another new museum on the island, the Pergamon Museum.
Reconstruction
Shortly thereafter, the destruction of the Second World War reduced the island's buildings to rubble. After the war, the museums were slowly restored one by one, except for the Neues Museum. For a long time, there was even a debate about the museum building's future. Meanwhile, its collection was housed first in the Bode Museum, later in Charlottenburg and in 2005 it moved to the Altes Museum.
In 1997 British architect David Chipperfield was appointed to plan the reconstruction of the Neues Museum. Works started in 2003 and seventy years after it closed in 1939, the Neues Museum finally reopened on October 16, 2009. Unfortunately, much of the interior, including the Egyptian Court – a colonnaded room decorated with hieroglyphics, Egyptian statues and murals – was not restored to its original appearance. But even though the interior has been completely modernized, parts of the original damaged structure are still visible.
The Collection
Today, the museum again showcases much of the original collection, including the Egyptian and Papyrus collection and the prehistory and early history collections. In contrast to its original arrangement, the collections are now flowing into each other, giving an overview of the old world from the early history of humankind up to the Antiquity.
The museum's star attraction is the bust of Queen Nefertiti, which was discovered in 1912 and dates back to 1360 BC.