Thanks to its long history, this attractive double-decker bridge has long been considered an important Berlin landmark. The bridge gained fame during the Cold War when it was used as a border crossing between West and East Berlin.
The First Bridge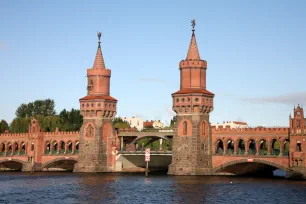 Crossing the River Spree, the original bridge known as the Oberbaumbrücke was built in the early 1700s and was a small wooden structure. The word "Baum" means tree in German, and the bridge is said to have gotten its name from the tree trunk barriers that were placed at each end of the bridge at dark, in order to prevent passage and decrease smuggling.
The tiny bridge was modified in 1879 to accommodate heavier traffic and became the longest bridge in Berlin, at 154 meters (505 feet). As Berlin grew, however, the bridge was still not big enough for the city's swelling population. Plans began for a new bridge, which would open in 1896.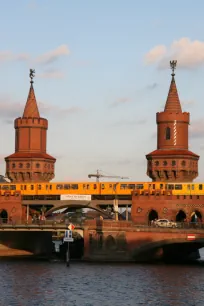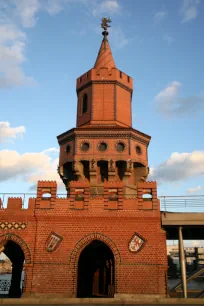 The New Bridge
As the city considered plans for the new bridge, they decided that it should accommodate not only pedestrians and road vehicles, but also the new U-Bahn (subway) that was being planned for the city of Berlin. The architect and government official, Otto Stahn, designed the new double-decker bridge using North German Gothic brick, in the style of a city gate, with many unique decorative elements like pointed arches and ornate coats of arms. The two towers near the center are strictly ornamental.
The U-Bahn crossed the bridge for the first time in 1902, and by the 1920s, the bridge served to connect two of Berlin's newest districts, Friedrichshain and Kreuzberg.
The middle section of the Oberbaumbrücke was blown up during World War II to stop the Red Army from crossing. After the war, the bridge was repaired and served to connect the American and Soviet sectors of the bridge. After the construction of the Berlin Wall in 1961, the bridge became the property of East Berlin and, beginning in 1963, the Oberbaumbrücke was used as a pedestrian border crossing for West Berlin residents only.
After the Wall
When the Wall came down in 1989, the bridge would soon come to represent the reunification of Germany. Restored to its former glory, but with a new steel middle section, the bridge reopened in 1994, just in time for the fifth anniversary of the fall of the Berlin Wall. Today, auto traffic speeds across the lower section of the bridge while the U-Bahn line to Warschauer Straße, which reopened in 1995, zooms over the upper level.