A favorite among tourists is a walk along the Vlaeykensgang, a small alley close to the city hall. This small historic alley is a throw-back to the late Middle Ages, a time when many streets weren't wider than a doorway.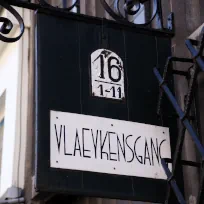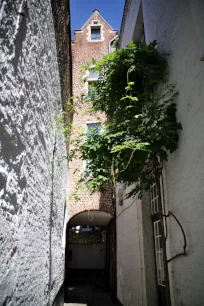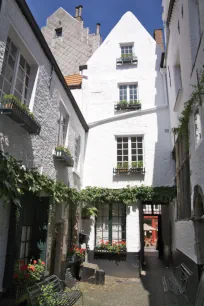 The alley was created in 1591 and was originally inhabited by shoemakers. The name is presumably derived from the Flemish word 'Vlaai', a local kind of pie.
Conditions in the alleys
At the end of the nineteenth century, there were many of these alleys in the city center. They may look idyllic now, but at the time only the poorest were housed here. Living conditions were often abysmal, with many of the large families crammed into small spaces. Sanitary conditions were poor, with often just one pump providing water for a whole alley.
During the course of the twentieth century, many of these alleys were demolished and redeveloped. By the 1960s, the dilapidated Vlaeykensgang was also slated for demolishment, but fortunately a local antique dealer purchased the houses in the alley and restored the whole complex.
The Vlaeykensgang today
Today, the Vlaeykensgang is a quiet refuge from the hectic city center and a popular spot to listen to the cathedral's carillon concerts that are held every Monday evening during summer. You can also have lunch or dinner here in an authentic historic atmosphere. One of the entrances of the Vlaeykensgang is at the Oude Koornmarkt, a former corn-market. The entrance, at number 16, is no wider than a doorway, so make sure you don't walk past it.