The Gothic Saint Paul's Church with its Baroque spire is located in the north of the old city center. It is one of the finest Antwerp churches, best known for its impressive Calvary.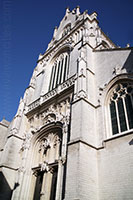 St. Paul's Church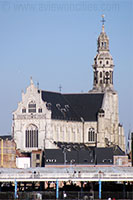 View from across
the river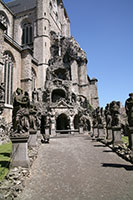 Calvary
The church was built in 1571 by a Dominican order as a replacement for a previous small church, which was built in 1276. That church, which was part of a large cloister, was regularly flooded, and the new church had to become larger with a higher floor. The new church was named after the Dominican order's patron saint, Paulus.
Fires
The St. Paul's Church has an eventful history. In 1679, fire destroyed much of the church and the tower was rebuilt. During the French Revolution, the church's many paintings were stolen by the French, but they were returned after the revolution in 1815.
The church was damaged again during the Belgian revolution in 1830 and the last disaster struck in 1968, when a fire destroyed the roof of the church and much of the interior. Fortunately, much of the interior was saved by passers-by or people living nearby. Before the firemen had even arrived, they had taken many paintings and sculptures outside, risking their own lives. It took almost twenty years to restore the building's roof, but currently the church is back in good shape.
Interior and Calvary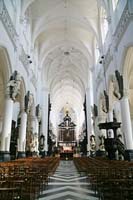 Interior
Today the church, decorated in a Baroque style, still houses a very rich collection of seventeenth-century paintings of Flemish masters, arranged in a row along the northern wall. Below the paintings, you'll find a large number of wooden sculptures. Several ornately decorated altars flank the main altar in front of the beautiful apse. The St. Paul's church is also home to one of the most important organs in Flanders.
At a small courtyard adjacent to the church (after entering the church, turn right), you'll see the truly impressive 'Calvarieberg', unique in the world. It consists of sixty-three statues depicting the Calvary, the site where Jesus was crucified.