Located at a nice Italianesque square – the Hendrik Conscience-plein – the Church of St. Charles Borromeo is one of the most beautiful buildings in Antwerp.
Counter-Reformation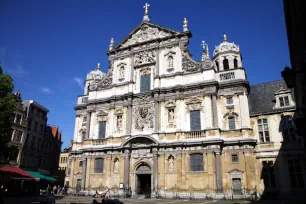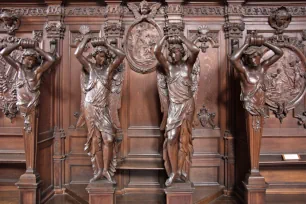 After the invasion of Antwerp by Alexander Farnese in 1584 the Spanish invaders forced all Protestants to leave the city or convert to Catholicism within four years. Not only did this lead to an emigration of about half the city's population in just two years, it also started the counter-reformation, a movement led by the Jesuits to counter the reformation of the Protestants. The most visible project of this movement was the construction of the Baroque church of St. Charles Borromeo, originally known as the Ignatius church, named after the founder of the Jesuits, Ignatius of Loyola.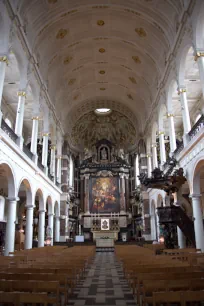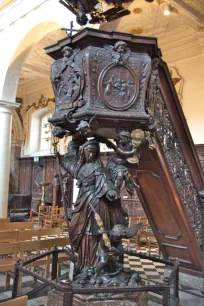 Ignatius Church
The church was constructed by a Jesuit, the physician and mathematician François d'Aguilon. After his dead in 1617 he was replaced by local architect Pieter Huyssens. Construction of the church started in 1614 and was already finished in 1621. It was modeled after the Jesuits' main church in Rome, the Chiesa del Gesù. Part of the decorations, including the painted ceiling, are attributed to local master painter Pieter Paul Rubens. Lightning struck the church in 1718, starting a fire which destroyed much of the interior. It was soon restored by J.P. Van Baurscheit I, but much of the interior – including the original marble and 39 ceiling paintings by P.P. Rubens – was lost.
The Ignatius Church was sold by the Jesuits in 1733. In 1773, it was even closed for a while until it became a parish church in 1803 when it was renamed St. Charles Borromeo. The building was restored several times in the nineteenth and twentieth century.
Interior
The interior, much of which was originally designed by P.P. Rubens, includes a monumental pulpit which is located in the middle of the nave. Eight confessional boxes are built in the panelings of the side walls. The Baroque church also includes several sculptures and wood carvings.
Hendrik Conscience Square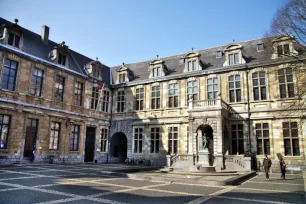 The small square at the church of St. Charles Borromeo became the first pedestrian zone in Antwerp after a lot of protests against cars in the city center during the sixties and seventies. Today, it is hard to imagine cars once were allowed at this tranquil piazza. At the square, you'll find the statue of the Flemish writer Hendrik Conscience, after whom the square was named when the statue was installed in 1880.