A popular center for nightlife, Amsterdam's Leidseplein attracts a vibrant crowd of both locals and visitors.
Its History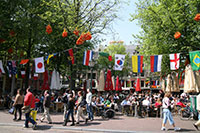 Leidseplein
Several centuries ago, the Leidseplein (Leidse Square) looked quite different from how it does today. As a matter of fact, in the seventeenth century, it was sort of a "parking lot" for farmers. The square was where they would leave their carts before entering into the city to conduct their business. Its name came from Leidsepoort (Leidse Gate), which once marked the end of the main road from Amsterdam to Leiden.
Today
The farmers of old wouldn't recognize the bustling area that's now known as the Leidseplein. Revelry continues here straight into the early morning hours, especially during pleasant weather.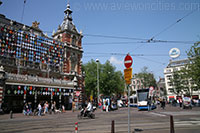 These days, Leidesplein boasts plenty of shops, restaurants, cafés, cinemas, a casino, theaters, live music venues, and nightclubs. It's a popular area for young adults to hang out on weekend evenings, and crowds are common.
Street musicians and other performers are common here as well, and most keep the crowds roaring all night long. You'll find jugglers, instrumentalists, singers, and even fire-eaters lining the perimeter of the Leidseplein, hoping to entice visitors to drop a few euros in their buckets.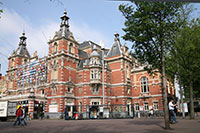 Stadsschouwburg
Historic buildings on the square include the Stadsschouwburg, a lovely Neo-Renaissance structure that now houses a theater where guests can enjoy live dramatic performances. In its heyday, it was home to the Dutch National Ballet and Opera.
Café Americain at the American Hotel Amsterdam is known for its Art Deco-style decor and is considered one of the most elegant buildings in Amsterdam.