Once the topic of numerous protests, the complex that houses both the city hall and the national opera house has now become a modern Amsterdam landmark.
The Idea
The desire to build a new opera house for the residents of Amsterdam as well as a new city hall dates back to the second decade of the twentieth century, when city officials first began discussing the idea.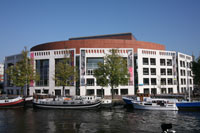 Stopera
However, it wasn't until the post-World War II era that plans were considered in earnest. City officials chose a site near the Waterlooplein at the bend of the Amstel River, and further discussion ensued as to the design. An architectural firm was chosen in 1955 then later rejected. Finally, in 1967, the city held a worldwide competition to determine a new design for both buildings. Viennese architect Wilhelm Holzbauer was chosen.
Again, plans were put on hold. In 1979, Holzbauer proposed the combination of the two buildings. His idea was met with positive reaction. A new architect, Cees Dam, took over for Holzbauer in 1980 and the project was approved by city residents in 1981.
Rejecting the Idea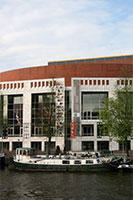 Not everyone was happy about the idea for the Stopera – the preferred name for the project, derived from combining two words: stadhuis (the Dutch word for city hall) and opera. Tens of medieval buildings had to be demolished for the construction of this postmodern building.
Many citizens, who staged many protests during the 1970s and 1980s (some very violent), opposed the Stopera and were eager to let their feelings be known. Despite their tactics, however, the project was completed, though it went drastically over budget. The Muziektheater opened in 1986 and City Hall in 1988.
Mixed Results
The Muziektheater is now a shining star in Amsterdam's cultural scene. The curved block-type building with glass facade faces the city and provides stunning views of the Amstel River. Guests can enjoy not only world-class opera performances by De Nederlandse Opera, but also productions by the Nationale Ballet and a number of visiting modern dance companies, as well as other assorted concerts.
The building itself, however, still feels out of place. It is not very well integrated in Amsterdam's otherwise homogeneous historic center and its architecture is more suited to that of a mall rather than that of a city hall, never mind an opera house.