The Hortus Botanicus, also known as 'de Hortus', is a 1.2 ha (3 acres) large botanical garden with a collection of some four thousand different plant species from around the world.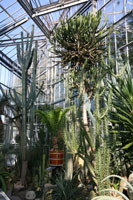 Desert climate zone
While the garden may be on the smallish site, the Hortus is certainly worth a visit, if only for its diverse collection of both native and exotic plants.
History
The garden's origin can be traced back to 1638, when the local city council founded a herbal garden to provide pharmacist and doctors with the necessary ingredients for the production of medicines. The collection of exotic plants grew quickly during the seventeenth and eighteenth centuries, when ships of the Dutch East India Company brought tropical plants from the Dutch colonies.
The gardens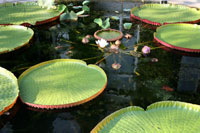 Water lilies
The many thousands of plants are displayed both outside and in several greenhouses. The appealing gardens outside are divided into small sections, some formally laid out – such as the semicircular Mayor's garden, created in 1863 – while others have a more natural layout. In the gardens you'll find species from different climate zones, ranging from temperate to Arctic. Don't miss the outdoor heated pool where the Victoria Amazonica – a water lily known for its enormous leaves – is cultivated.
Buildings and glasshouses at the Hortus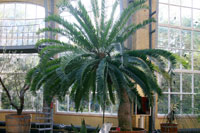 Giant Eastern Cape Cycad
The oldest building at the Hortus is the beautifully renovated orangery from 1875, now home to an outdoor café. The main building, to the left of the entrance at the Plantage Middenlaan, was constructed in 1915. It is named after Professor Hugo de Vries, who was director of the Hortus from 1896 until 1918.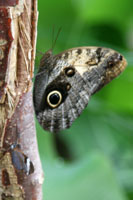 Giant butterfly
The Palmenkas, a historic palmhouse, was erected during this period, in 1912. Originally built to house all kinds of tropical plants, it is now primarily home to a collection of cycad palms, including a three hundred-year-old giant Eastern Cape cycad. The largest greenhouse is the modern glass and aluminum Drieklimatenkas (Three-Climate Glasshouse), built in 1993 and divided into three climate zones: subtropical, tropical and desert.
Some small greenhouses in the center of the garden are also noteworthy: in the Butterfly House you can see exotic butterflies up close, and a collection of cacti and other desert plants can be seen in the Mexican Glasshouse.