One of the last remaining pieces of late Medieval Amsterdam, Montelbaanstoren stands as a proud monument to the city's early wealth and power.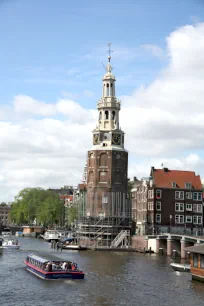 Thanks to its location at the IJssel lake, the Amsterdam of long ago was a wealthy shipbuilding and trading port, requiring protection from enemies that might otherwise try to plunder the city. In order to protect it, walls were built around the city during medieval times.
The Tower
Montelbaanstoren, built in 1512, is a piece of the protective wall that still stands today; one of just a few small sections that remain throughout the city. The tower housed Amsterdam's military guards, stationed there in order to spy any approaching armies who may be trying to overtake the city, making their way towards the port. The tower was also a gathering place for sailors who would meet at the base of Montelbaanstoren before heading off to far-away lands on long sea voyages.
Silly Jack
The tower is located at a canal called Oude Schans. It stands much as it was in 1512, except for the addition of a decorative spire and clock in 1606. After the clock was added, the tower garnered the nickname "Silly Jack" – Malle Jaap in Dutch – because the clock's bells were rather unreliable and rang at strange times of the day or wouldn't ring at all for days on end.
Today, the tower houses the offices of another water-related endeavor – Amsterdam's Department of Sewage and Water Management.