The church of Santi Giovanni e Paolo – sometimes also referred to as San Zanipolo – is one of Venice's largest churches, originally designed to accommodate the large numbers of urban poor that were served by this particular congregation.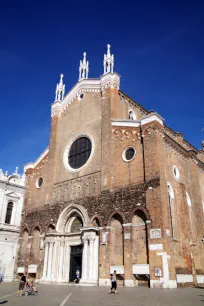 History
Santi Giovanni e Paolo was built to honor Sts. John and Paul. Designated as a minor basilica, it is a parish church of the Vicariate of San Marco-Castello and is the principal Dominican church of Venice.
The first church on this location was ordered by Doge Jacopo Tiepolo, who gave the land on which it stood to the Dominicans after he dreamed of a flock of white doves flying over the area, which was – at that time – swampland. The Dominicans opened the first church there in 1246. That structure was demolished in 1333 when the growing congregation prompted the need for a larger building. However, it took nearly a century to build the new church, which finally opened and was consecrated in 1430.
Interior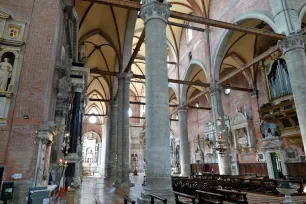 Santi Giovanni e Paolo is built in the Italian Gothic Style and is made of brick. Many noble families favored it as a burial place and about 25 doges as well as military commanders and other famous men of the Republic, including several artists, have assumed a final resting place there, housed in ornately decorated tombs. The many tombs of notables earned the church the nickname 'Pantheon of Venice'.
Indeed, most visitors agree that the interior is much more magnificent than the exterior. Artwork is plentiful. The main altar, dedicated to Vincenzo Ferrer, a Spanish Dominican saint, is decorated by a large polyptych by Giovanni Bellini and an altar piece by Lorenzo Lotto displays the alms of Saint Anthony. Many other notable Venetian artists are featured in the interior of the church as well.
Today, visitors can tour the beautiful interior for a small fee. Masses are held several times a day.